Just more proof that Catholicism is the Whore Religion leading Billions to Hell!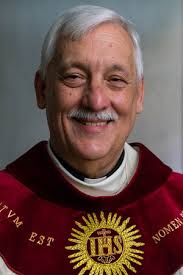 Breitbart – The head of the Jesuit order, (Black Pope and chief Luciferian) Father Arturo Sosa, has denied the existence of the devil as a real being, suggesting rather that humans invented Satan as a "symbolic" figure to represent evil.
In an interview with the Spanish newspaper El Mundo, Father Sosa was asked whether he believes that evil is a process of the human psychology or comes from a superior being.
"We have created symbolic figures such as the devil to express evil," Father Sosa said. "Social conditioning can also represent this figure, since there are people who act like this because they are in an environment where it is difficult to act to the contrary." 

So why do the Jesuits, who the Black Pope is head, have a device named LUCIFER, on the largest Telescope in America? Who are they looking for? Lucifer, who he says is a figment of peoples imagination?
This is not the only thing this devil questions about the Bible. Also see this: Black Pope indicates Jesus was Wrong about Marriage between a Man a Woman and Divorce.
Continuing with Excerpts:
In an interview in February, the Jesuit priest suggested that different interpretations of the Bible can all be valid since no one really knows what Jesus said anyway.
"It would be necessary to start a nice reflection on what Jesus really said," Father Arturo Sosa said in his interview with Swiss Vatican journalist Giuseppe Rusconi, since "at that time no one had a tape recorder to record his words."
"What we do know is that Jesus' words need to be contextualized. They were expressed with a language, in a specific setting and were directed to someone in particular," he said.
Asked whether Jesus' words have an "absolute value," Father Sosa said that scholars have been struggling "to understand exactly what Jesus meant to say."
"The word is relative, the Gospel is written by human beings, it is accepted by the Church which is made up of human persons," he said.
"It is true," he said, "that no one can change the word of Jesus, but we need to know what it was!" Source: Breitbart.