Video of Isabel Martinez court hearing shows her to be a Catholic. Those Catholic demons manifest as she is recorded laughing and smiling! She gets on her knees and prays to those Demons that she worships.
I would almost bet she worships the death saint Santa Muerte!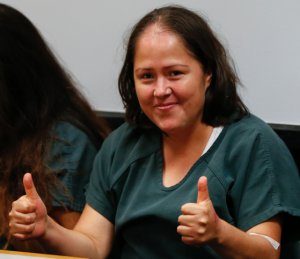 Excerpts Gwinnett Daily Post – The illegal immigrant accused of stabbing to death her four children and husband in their Georgia home put on a bizarre show in court on Friday, smiling and posing for news cameras and even giving a double "thumbs up" gesture.
Maria Isabel Garduno-Martinez, 33, whom local law enforcement identified as Isabel Martinez, entered the U.S. from Mexico illegally, U.S. Customs and Immigration Enforcement spokesman Bryan Cox said in an email to The Associated Press Friday. It's unclear if the rest of her family came to the U.S. legally.
Martinez appeared in her first court hearing on Friday after being charged with five counts of malice murder, five counts of murder and six counts of aggravated assault.
She denied legal representation, telling Gwinnett County Magistrate Judge Michael Thorpe that her attorney is the people and her faith.
Four children — Isabela Martinez, 10; Dacota Romero, 7; Dillan Romero, 4; and Axel Romero, 2 — and their father, Martin Romero, 33, were found dead in the home.