As stated in a previous article: Katheryn Hudson: The Core Personality Fighting Back! Katy Perry is an Ancestral Demon, her ONLY hope is to TURN BACK to her roots, Jesus Christ!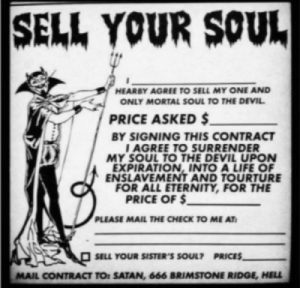 She has a huge problem that only Jesus Christ can Remedy!  How do you go from singing in church, to trying to make it in gospel music, to becoming a top star in the secular music industry? Why you team up with the devils who will help you make a pact with the devil! It seems to have transpired at the time she moved to LA and "began working with producers Glen Ballard, Dr. Luke, and Max Martin."
Seems that according to the time line below, it was between 2001 and 2007 a span of 6 years when she was converted over into Satan's kingdom. 
Katheryn Elizabeth Hudson (born October 25, 1984), known professionally as Katy Perry, is an American singer and songwriter. After singing in church during her childhood, she pursued a career in gospel music as a teenager. Perry signed with Red Hill Records and released her debut studio album Katy Hudson under her birth name in 2001, which was commercially unsuccessful. She moved to Los Angeles the following year to venture into secular music after Red Hill ceased operations and she subsequently began working with producers Glen Ballard, Dr. Luke, and Max Martin. After adopting the stage name Katy Perry and being dropped by The Island Def Jam Music Group and Columbia Records, she signed a recording contract with Capitol Records in April 2007. Source: Wikipedia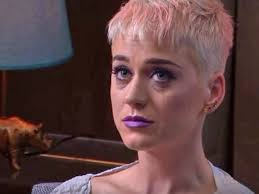 Katy Perry has revealed more about her Possession in an interview with Glamour Magazine. Here are a couple snippets from the Christian Journal that gives a hint into her indoctrination into the Occult.
"Katy Perry has opened up to talk about her childhood trauma in a recent interview with Glamour magazine. In 2017, while debuting her alum Witness, Katy Perry held a public therapy session on YouTube where she was counseled through the split between Katheryn Hudson, the young girl she was before stardom, and Katy Perry, the Hollywood celebrity. The split within her was so dramatic that both personalities were fully developed, one she says is only about 13 years old, the other 33. In this therapy session, Katy speaks on integrating Katheryn."
Coupled with the 6 years of indoctrination, (6 being the number of man and mark of the beast) 13 and 33 are two of the most prominent numbers in Satanism, Witchcraft, Numerology and the Illuminati!
Note that they chose the All Seeing Eye of the Illuminati, (which is everywhere you look now, even in Taco Bell ads) as the logo in the video. Also the WWW above the eye represents 666 the mark of the beast! You can't make this stuff up!
See my explanation of this "session" in the previous article about it.
"I'm preparing to do a big soul overhaul very soon that I'm nervous about. I want to emotionally elevate myself. I don't want to hold on to childhood trauma anymore. I want to grow into becoming an adult. I'm preparing myself for having a family of my own someday. And that's the thing: I want to do a little bit more soul surgery before I have a family of my own so that I don't transfer any of those lingering feelings. I'm about to go heavy into that emotional process, and I'm nervous, but I don't think I have a choice anymore. This last year has been about killing my ego, which has been really necessary for my career. But for my personal life, it doesn't work that way. If I want to have that true balance, I have to step into being Katheryn Hudson." Source: Christian Journal

You do NOT do a soul overhaul! That is Witchcraft and New Age terminology and will result in her becoming worse and she may even commit suicide, which is what the Ancestral Demon wants to happen! 
How the downfall began:
Katy Perry Rejects Christianity
Katy Perry: 'I Did More' Than Just Kiss a Girl During Christian Upbringing
Also see:
Hollywood's obsession with the Occult
Satanism, Witchcraft and Human Sacrifice in Hellywood