Is 'Preachers of LA' Making a Mockery of the Gospel?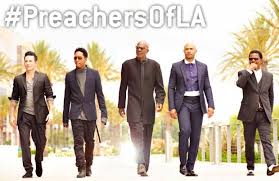 You can bet whatever comes out of Hellywood, whatever is promoted by Mega-Church Preachers and the unsaved, is ungodly to say the least. These apostate preachers and the Jezebels that appear with them are in grave danger of eternal Hell. They are no more then actors playing the part of someone saved. Sadly that is the condition of much of the church world. Just actors playing parts in religion!
Charisma News – Jennifer LeClaire June 23, 2014
Preachers of L.A. was the object of scorn among many God-fearing people who loathe to see the prosperity gospel in prime time, but apparently it was a big enough hit with viewers that it's getting a second season.
"Preachers of L.A. documents these larger-than-life characters who are rock stars in their communities with a fresh, unique perspective that will resonate with our young audience," explained Rod Aissa, Oxygen Media's senior vice president of original programming and development.
A press release says the show "will give viewers a candid and revealing look at six boldly different and world-renowned mega-pastors in Southern California, who are willing to share diverse aspects of their lives—from their work in the community and with their parishioners to the very large and sometimes provocative lives they lead away from the pulpit."
A group that calls itself Christians Against Preachers of L.A. launched a petition on change.org against the show last year, but that didn't stop the show's success. The petition complained: "Biblical prosperity is not about wealth building. This is a poor representation of the Kingdom of God. These preachers' lifestyles are NOT promoting Christ[-like] ethos but rather their cars, homes, relationships and their justification on why they want viewers to see them as having fleshly desires as everyone else does."
Christian media expert Phil Cooke asked a pointed question: Is Preachers of L.A. a setback for the church? But the backlash didn't stop there. Sean Abbananto, a speaker and entrepreneur from Oklahoma City, Oklahoma, predicted that Preachers of L.A. would not turn out well for rock star pastors. Although the pastors in the reality TV show series seem to be doing fine, that doesn't mean God is pleased.
Some of the rock star preachers answered back. Specifically, Deitrick Haddon used social media to speak out against pastors preaching against the Oxygen network program from the pulpit. "If your pastor's message is all about #PreachersofLA this sunday I recommend that you find another church," he tweeted Saturday to more than 180,000 followers. "Preach the word & that's all! lol"  Read the whole article with links here
---
Preachers' Daughters Go Wild on 'Missions Trip': Booze, Brawls and Boys
Unsaved, demon possessed little whores!!

Heather Clark Christian News Network March 9, 2015
The new season of the reality show "Preacher's Daughters" is being called "completely contradictory to Christianity" as it features several pastor's daughters drinking, dancing sexually with boys and engaging in profanity-laced brawls all the while serving on a so-called missions trip to Mexico.
As previously reported, the show was released by Lifetime in 2013, and was stated to be a "hard-hitting but often humorous look at the lives of these pastors' daughters as they balance the temptations every teenager faces with their parents' strict expectations and code of conduct as influenced by their faith."
The broadcast began with three preacher's daughters, but now features nearly ten girls from across the country, all of which whose fathers either serve as pastor, worship leader or youth leader.
In the third season—which is currently airing each week on Lifetime, the girls are sent on a missions trip to Cabo San Lucas, Mexico, where they are to be involved in a number of humanitarian projects. But the girls—who often dress in revealing clothing—constantly get in profanity-laden fights, plot to throw each other out of the house where they are staying, and spend their down time at the night club or beach getting drunk and chasing boys.
In one episode, some of the girls, dressed in bikinis, participate in a "wet t-shirt contest" at a local bar, and in another entitled "Jesus Went to the Club," the preacher's daughters go to the night club to dance the night away. But the girls take issue with cast member Lolly White, who flirts with older men, grinds her bottom into a man's frontal area, and drinks alcohol throughout the night.
"Lolly loves to curse," one of the girls, Kayla Wilde, 20, states in a video clip for the show. "Lolly loves to talk as trashy and disgusting as she can."
White invites a number of the older men she meets at the club back to the house where the preacher's daughters are staying, but the others object. In one scene, White kisses another girl on the lips.
Fights break out between the girls over a number of issues, and a debate also ensues as to whether homosexuality is permissible after Cierra Vaughn, 22, daughter of the pastor of House of Judah in Chicago, Ill., confronts Kristiana Flowers, 18, daughter of Kenneth Flowers of Greater Mt. Moriah Missionary Baptist Church in Detroit, Mich., over her sexuality. The other girls chime in to Flowers' defense.
"You love who you love. You cannot help who you love," Nikki Efimetz, 19, declares enthusiastically in support of Kristiana.
"You're not going to go to Hell because of that," says Jayde Gomez, 20. "I don't get where people think that God hates gay people…"
"What if when they were making the Bible, the guy accidentally typed out the wrong word?" Efimetz says in regard to same-sex relationships. "What if it was a typo? That's what I like to think. We don't know."
During last week's episode, cast member Megan Cassidy, 18, who has been on the show the longest, calls her father in tears, as she doesn't believe that she should remain among the group because of their wild actions.
"This whole house is crazy and I just don't think it is worth it anymore," she says.
He advises her to stay.
"Here's the thing: You committed to this as mission work. And when we commit to something, we're going to finish doing it," Cassidy, associate pastor at Lake Bowen Baptist Church in Inman, SC, states.
"But I just don't want to live like this," she says. "It's crazy."
He again advises her to stay.
"You just be who you are. Do what you're doing, and let people see what God can do in you," Cassidy states. "That shows His love, His grace, His mercy. This can be a very good thing and you know that."
But some have expressed concern to Lifetime about the reality show, stating that it is blaspheming the name of Christ and dragging it through the mud. Scott Brown of the National Center for Family-Integrated Churches (NCFIC) told Christian News Network that he believes that Lifetime is presenting the program for shock value.
"It is so outlandish and garish and completely contradictory to Christianity," he said. "These daughters are unbelievers and not reflective of people who belong to the true church. They are simply involved with Lifetime in a moneymaking scheme."
While some say that the show simply indicates that pastors families are imperfect and often have issues to work through, Brown said that the show goes way past mere imperfection.
"These are not normal pastors daughters who aren't perfect and have their struggles," he stated. "It is picture of corrupt pastors and churches, not the true Church."
Brown pointed to Ephesians 5, which reads, "Therefore be imitators of God as dear children, and walk in love, as Christ also has loved us and given Himself for us, an offering and a sacrifice to God for a sweet-smelling aroma. But fornication and all uncleanness or covetousness, let it not even be named among you, as is fitting for saints; neither filthiness, nor foolish talking, nor coarse jesting, which are not fitting, but rather giving of thanks."
"For this you know, that no fornicator, unclean person, nor covetous man, who is an idolater, has any inheritance in the kingdom of Christ and God. Let no one deceive you with empty words, for because of these things the wrath of God comes upon the sons of disobedience. Therefore, do not be partakers with them," it continues. "For you were once darkness, but now you are light in the Lord. Walk as children of light (for the fruit of the Spirit is in all goodness, righteousness, and truth), finding out what is acceptable to the Lord. And have no fellowship with the unfruitful works of darkness, but rather expose them. For it is shameful even to speak of those things which are done by them in secret."
---
Clowns posing as Preachers!
Matthew 7:20-23 "Wherefore by their fruits ye shall know them. 21 Not every one that saith unto me, Lord, Lord, shall enter into the kingdom of heaven; but he that doeth the will of my Father which is in heaven. 22 Many will say to me in that day, Lord, Lord, have we not prophesied in thy name? and in thy name have cast out devils? and in thy name done many wonderful works? 23 And then will I profess unto them, I never knew you: depart from me, ye that work iniquity."
Jon Watkins November 26, 2015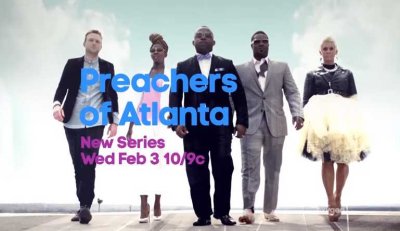 Just as I used the following quote in a recent article "The Disease of false Religion", I must once again use it here because there are no other words that aptly describe these people! "A time will come when instead of shepherds feeding the sheep, the church will have clowns entertaining the goats."– C.H. Spurgeon It is an absolute shame that Luciferian trash such as the 4 Clowns in the image to the left are picked to represent Christianity. Liberal God hating organizations such as Oxygen do all they can destroy the Gospel.
"The television network Oxygen (an Oprah Winfrey conglomeration) has announced the second round of its controversial preacher reality show, this time following five Georgia ministers, including one rap artist, a female preacher with a rocker hairdo and tutu, and a Grammy Award-winning gospel singer who admits that she passes out cigarettes and condoms on the streets."
Quotes below are from Christian News Network:
"Preachers of Atlanta" comes on the heels of its much-debated "Preachers of L.A." broadcast, which featured the lavish lives of several California ministers, including one gospel singer who sought to make a comeback after having a child out of wedlock with his girlfriend.
"Preachers of Atlanta features a young, vibrant group of pastors who are pushing the envelope and tackling real-world issues in their communities, creating thought-provoking dialogue," Rod Aissa, Executive Vice President of Original Programming and Development at Oxygen Media, said of the new series in a statement.
"I take it to the streets. I pass out cigarettes and condoms," Le'Andria Johnson, who leads Imperfect People Changing (I.P.C.) Ministries, declares in a preview for "Preachers of Atlanta." "I do all of that, but at the end of the day, when God tells me to do something, I do it."
This is what the Church has become. Instead of Amazing Grace, it has evolved into Amazing Idiocy! If they ever did know Jesus as Savior……2nd Peter 2:19-22 "While they promise them liberty, they themselves are the servants of corruption: for of whom a man is overcome, of the same is he brought in bondage. 20 For if after they have escaped the pollutions of the world through the knowledge of the Lord and Saviour Jesus Christ, they are again entangled therein, and overcome, the latter end is worse with them than the beginning. 21 For it had been better for them not to have known the way of righteousness, than, after they have known it, to turn from the holy commandment delivered unto them. 22 But it is happened unto them according to the true proverb, The dog is turned to his own vomit again; and the sow that was washed to her wallowing in the mire."