Grandmother accused of dressing as witch to abuse child
The girl said the witch's name is "Nelda."
OKLAHOMA CITY – An Oklahoma City woman who is accused of dressing as a witch to terrorize her 7-year-old granddaughter has pleaded guilty to child abuse. A 6-year-old is also named in the affidavit.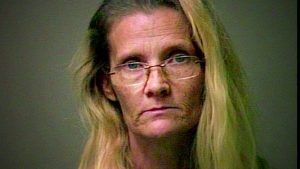 Officers were called to a home in southeast Oklahoma City in Sept. 2014 after the woman tried to take the victim to Griffin Memorial Hospital.
The 7-year-old child looked to be malnourished and had numerous burns and bruises across her body, according to the police report.
The report says the victim's ankles had cuts around them and were infected. Her wrists had marks "which had the appearance of possibly being bound."
Authorities say the 7-year-old girl claims Robinson, her grandmother, would dress up as a witch and abuse her.
The girl told a DHS worker that Robinson would wear a green mask, take her to the garage, bind her wrists at night and make her sleep on a pair of pants because "she was in trouble."
"Nelda" would allegedly "take a pink dog leash and hang the victim in the middle of the garage underneath her arms" and tell the girl "the creatures in the attic were going to come get her."
Another grown adult who lives in the home also allegedly told police he got the witch treatment, claiming the suspect kicked him in the genitals on a regular basis.
Sources here Source 1   Source 2