Galatians 5:21 – Envyings, murders, drunkenness, revellings, and such like: of the which I tell you before, as I have also told [you] in time past, that they which do such things shall not inherit the kingdom of God.
The following was penned about 1886 but is still relevant today. He speaks to the Young men but it can apply to the drunken Females too. I guess back in those days LADIES were not drinkers only the Hussies were! Take heed of what its says and what scripture says. They are listed for you at the bottom.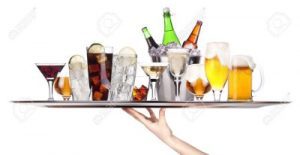 The Dangers of Moderate Drinking

John B. Gough (1817-1886) Born in Sandgate, Kent, England in 1817, Gough immigrated to the United States when he was only twelve years old. His mother and sister also came to America. His mother died of a stroke and Gough, despondent, began to drink. He married in 1838. The couple had a daughter but unfortunately, both mother and child died within days of each other. By the age of 25, Gough was unemployed, homeless, and a confirmed drunkard. In 1842 he attended a temperance meeting in Worcester, Massachusetts, where he took a pledge to totally abstain from liquor. He began to tell his story to eager audiences and soon embarked on a career of lecturing against the evils of drink. During his career, Gough delivered some 9,600 lectures to more than nine million people in America, Canada, England, Scotland, and Ireland.
When he died in 1886, the New York Times wrote that he "was probably better known in this country and in Great Britain than any other public speaker." Mr. Gough was one of this country's most influential social reformers who helped to solve one of America's most pressing problems. He was a witnessing Christian, a personal friend of Charles Spurgeon, and shared the pulpit in Boston (1877) during a "Temperance Day" meeting with D. L. Moody.
For more info, see the Wikipedia entry for John B. Gough
One favorite argument of young men in reference to the use of intoxicating drink is, "When I find out that it is doing me an injury, then I will give it up." That is making an admission and coming to a conclusion.
The admission is true; the conclusion is false. You admit it may injure you, and when it has injured you, then you will quit it. You won't use such an argument in reference to any other matter. "I will put my hand into the den of a rattlesnake, and when I find out that he has stuck his fangs into me I will draw it out and get it cured as quickly as possible." There is no common sense in that.
Young men, beware of this thing, because it is a snare. It is fearfully deceptive. Every man who drinks intends to be a moderate drinker. I have said this over and over again, because I believe it to be important. Every man who becomes intemperate does so by a course of argument from the beginning all the way down to ruin. Young men, you say, "When I find out that it is injuring me, then I will give it up." Is that sensible?
I once heard of a pilot who said he could pilot a vessel into Boston Harbor. "Now," said he to the captain, "I'll stand 'midships, and you can take the helm. I know every rock in this channel – every one of 'em – I know 'em all, and I'll give you warning." By and by the vessel struck upon a rock, and the shock threw everybody down upon the deck. The poor pilot got up, rubbing himself, and said, "Captain, there's one of 'em."
Now we say to young men, "There 's one of them. Hard up your helm before you strike!" That is sensible. If you have struck, haul off and repair damages, and then strike again. Is that sensible? In time the poor old battered hulk will not bear any more damages, and men will bury you, a broken wreck. That is the end of it in many cases. "When I find out that it is injuring me, then I will give it up." Gather all the drunkards of this country together, and ask them every one, "Are you drinking enough to injure you?" A large proportion will declare that they are not. Each one of them has become a drunkard in the sight of God and man before he has become one in his own estimation.


Intoxicating drink is deceptive in its very nature. It reminds me of the fable of the serpent in a circle of fire. A man was passing by, and the snake said to him, "Help me out of my difficulty." "If I do, you'll bite me." "Oh, no, I won't." "I'm afraid to trust you," "Help me out of the fire, or it will consume me, and I promise on my word of honor I won't bite you." The man took the snake out of the fire, and threw it on the ground. Instantly the serpent said, "Now I'll bite you." "But didn't you promise me you wouldn't?" "Yes, but don't you know it's my nature to bite, and I cannot help it." So it is with the drink. It is its nature to bite; it is its nature to deceive.
Young men say (and I have heard them more than once) that they "must sow their wild oats." Remember this, young gentlemen, "Whatsoever a man soweth, that shall he also reap." If you sow corn, you reap corn. If you sow weeds, you reap weeds. If you sow to the flesh, you will of the flesh reap corruption. But if you sow to the spirit, you will of the spirit reap life everlasting. Ah, young men, look at that reaping, and then contemplate the awful reaping of men to-day who are reaping as they have sown, in bitterness of spirit and anguish of soul. "When I find out that it is injuring me, Then I will give it up."
Surely that is not common sense. Such is the fascination thrown around a man by the power of this habit, that it must have essentially injured him before he will acknowledge the hurt and consent to give it up. Many a man has been struck down in his prosperity, has been sent to prison for crime, before he acknowledged that his evil habit was injuring him. I remember riding from Buffalo to Niagara Fails, and I said to a gentleman, "What river is that, sir?" "That," he said, "is Niagara River." "It is a beautiful stream," said I, "bright, smooth, and glassy; how far off are the rapids?" " Only a few miles," was the reply. "Is it possible that only a few miles from us we shall find the water in the turbulence which it must show when near the rapids?" "You will find it so, sir." And so I found it, and that first sight of Niagara Falls I shall never forget. Now, launch your bark on that river; the water is smooth, beautiful, and glassy. There is a ripple at the bow of your boat, and the silvery wake it leaves behind adds to your enjoyment. You set out on your pleasure excursion. Down the stream you glide; oars, sails, and helm in proper trim. Suddenly some one cries out from the bank, "Young men, ahoy!"
"What is it?" "The rapids are below you."
"Ha, ha! we have heard of the rapids, but we are not such fools as to get into them. When we find we are going too fast, then we shall up with the helm and steer to the shore; we will set the mast in the socket, hoist the sail, and speed to land. Then on, boys, don't be alarmed, there's no danger." "Young men, ahoy there! " "What is it?" "The rapids are below you." "Ha, ha? we will laugh and, quaff; all things delight us. What care we for the future? No man ever saw it. Sufficient for the day is the evil thereof. We will enjoy life while we may; we will catch pleasure as it flies. This is enjoyment, time enough to steer out of danger when we are sailing too swiftly with the current." "Young men, ahoy!" "What is it?" "Beware, beware! the rapids are below you." Now you feel them! See the water foaming all around! See how fast you pass that point! Up with the helm! Now turn! Pull hard; quick, quick! Pull for your lives! Pull till the blood starts from the nostrils and the veins stand like whipcord upon the brow. Set the mast in the socket, hoist the sail! Ah, ah, it is too late; faster and faster you near the awful cataract, and then, shrieking, cursing, howling, praying, over you go. Thousands launch their barks in smooth water and realize no danger till on the verge of ruin, boasting all the while to the last, "When I find out that it is injuring me, then I will give it up." The power of this habit, I repeat, is fascinating, is deceptive, and men may go on arguing and coming to conclusions while on the way down to destruction.
–Taken from Platform Echoes, John B. Gough. Pages 93-97, 1886.
Scriptures that pertain to Drinking and Getting Drunk

Leviticus 10:9 – Do not drink wine nor strong drink, thou, nor thy sons with thee, when ye go into the tabernacle of the congregation, lest ye die: [it shall be] a statute for ever throughout your generations:
Deuteronomy 14:26 – And thou shalt bestow that money for whatsoever thy soul lusteth after, for oxen, or for sheep, or for wine, or for strong drink, or for whatsoever thy soul desireth: and thou shalt eat there before the LORD thy God, and thou shalt rejoice, thou, and thine household,
1 Kings 1:1-53 – Now king David was old [and] stricken in years; and they covered him with clothes, but he gat no heat. (Read More…)
Proverbs 5:15 – Drink waters out of thine own cistern, and running waters out of thine own well.
Proverbs 20:1 – Wine [is] a mocker, strong drink [is] raging: and whosoever is deceived thereby is not wise.
Proverbs 23:29-35 – Who hath woe? who hath sorrow? who hath contentions? who hath babbling? who hath wounds without cause? who hath redness of eyes? (Read More…)
Proverbs 23:31 – Look not thou upon the wine when it is red, when it giveth his colour in the cup, [when] it moveth itself aright.
Proverbs 31:6-7 – Give strong drink unto him that is ready to perish, and wine unto those that be of heavy hearts. (Read More…)
Isaiah 5:22 – Woe unto [them that are] mighty to drink wine, and men of strength to mingle strong drink:
Isaiah 16:10 – And gladness is taken away, and joy out of the plentiful field; and in the vineyards there shall be no singing, neither shall there be shouting: the treaders shall tread out no wine in [their] presses; I have made [their vintage] shouting to cease.
Isaiah 28:7 – But they also have erred through wine, and through strong drink are out of the way; the priest and the prophet have erred through strong drink, they are swallowed up of wine, they are out of the way through strong drink; they err in vision, they stumble [in] judgment.
Isaiah 65:8 – Thus saith the LORD, As the new wine is found in the cluster, and [one] saith, Destroy it not; for a blessing [is] in it: so will I do for my servants' sakes, that I may not destroy them all.
Habakkuk 2:15 – Woe unto him that giveth his neighbour drink, that puttest thy bottle to [him], and makest [him] drunken also, that thou mayest look on their nakedness!
Matthew 6:25 – Therefore I say unto you, Take no thought for your life, what ye shall eat, or what ye shall drink; nor yet for your body, what ye shall put on. Is not the life more than meat, and the body than raiment?
Matthew 24:49 – And shall begin to smite [his] fellowservants, and to eat and drink with the drunken;
Luke 1:15 – For he shall be great in the sight of the Lord, and shall drink neither wine nor strong drink; and he shall be filled with the Holy Ghost, even from his mother's womb.
Luke 15:1-32 – Then drew near unto him all the publicans and sinners for to hear him. (Read More…)
Luke 21:34 – And take heed to yourselves, lest at any time your hearts be overcharged with surfeiting, and drunkenness, and cares of this life, and [so] that day come upon you unawares.
John 2:1-11 – And the third day there was a marriage in Cana of Galilee; and the mother of Jesus was there: (Read More…)
Romans 12:1 – I beseech you therefore, brethren, by the mercies of God, that ye present your bodies a living sacrifice, holy, acceptable unto God, [which is] your reasonable service.
Romans 13:13 – Let us walk honestly, as in the day; not in rioting and drunkenness, not in chambering and wantonness, not in strife and envying.
Romans 14:21 – [It is] good neither to eat flesh, nor to drink wine, nor [any thing] whereby thy brother stumbleth, or is offended, or is made weak.
1 Corinthians 6:10 – Nor thieves, nor covetous, nor drunkards, nor revilers, nor extortioners, shall inherit the kingdom of God.
Galatians 5:21 – Envyings, murders, drunkenness, revellings, and such like: of the which I tell you before, as I have also told [you] in time past, that they which do such things shall not inherit the kingdom of God.
Ephesians 5:1 – Be ye therefore followers of God, as dear children;
Ephesians 5:18 – And be not drunk with wine, wherein is excess; but be filled with the Spirit;
1 Timothy 3:8 – Likewise [must] the deacons [be] grave, not doubletongued, not given to much wine, not greedy of filthy lucre;
1 Timothy 5:23 – Drink no longer water, but use a little wine for thy stomach's sake and thine often infirmities.
Titus 2:3 – The aged women likewise, that [they be] in behaviour as becometh holiness, not false accusers, not given to much wine, teachers of good things;
Hebrews 10:26 – For if we sin wilfully after that we have received the knowledge of the truth, there remaineth no more sacrifice for sins,
1 Peter 4:3 – For the time past of [our] life may suffice us to have wrought the will of the Gentiles, when we walked in lasciviousness, lusts, excess of wine, revellings, banquetings, and abominable idolatries:
1 Peter 5:8 – Be sober, be vigilant; because your adversary the devil, as a roaring lion, walketh about, seeking whom he may devour:
Continued in Part 2 here.

---
If you go to the store to buy Meat, don't run to the Milk section or the Junk Food aisle looking for it!!
The Meat Section is the
True Gospel of Jesus Christ
.
The Milk Section is likened to those who will not preach on sin and
Hell
, just a feel good message, the Social gospel.
The Junk Food Isle is the outright false doctrine AKA the prosperity gospel, name it and claim it, the Hebraic Roots movement and other false teachings!!
Feasting on just Milk and Junk will eventually cause you great harm, you can count on it!!
---
If you appreciate what this Ministry is doing to Expose the Fake Christians, Satanists, Witches, Communist/Socialist Democrats, R.I.N.O Republicans and the assault on our Conservative, True Christian values,
please consider a small donation
to help us continue and expand. This Ministry is not only under attack by the Enemy, we are now under attack from supposed Christians also. It is what
Tom Horn calls 'Blood on the Altar"
!