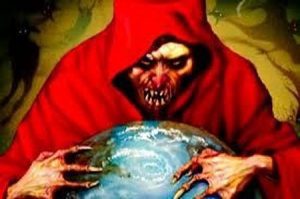 He, Satan, commands a hierarchy just like a military machine! However, he can do nothing unless God gives him permission! See Job chapters 1 & 2 for that!
People ask all the time why are things happening the way they are and why does God not stop it?  Well humans are infested with a SIN NATURE because of the disobedience and fall of Adam and Eve!
Those who have never read the Bible, studied the old testament, are Biblically Ignorant, do not understand why God allows it. Israel of old always disobeyed God and he punished, and chastised them. Go read it folks! 
No different today! We are a sin sick world and that INCLUDES God's people, the church!! 
Hebrews 12:6-11 "For whom the Lord loveth he chasteneth, and scourgeth every son whom he receiveth. 7 If ye endure chastening, God dealeth with you as with sons; for what son is he whom the father chasteneth not? 8 But if ye be without chastisement, whereof all are partakers, then are ye bastards, and not sons. 9 Furthermore we have had fathers of our flesh which corrected us, and we gave them reverence: shall we not much rather be in subjection unto the Father of spirits, and live? 10 For they verily for a few days chastened us after their own pleasure; but he for our profit, that we might be partakers of his holiness. 11 Now no chastening for the present seemeth to be joyous, but grievous: nevertheless afterward it yieldeth the peaceable fruit of righteousness unto them which are exercised thereby."
What does it mean that Satan is prince of the power of the air
"And you were dead in the trespasses and sins in which you once walked, following the course of this world, following the prince of the power of the air, the spirit that is now at work in the sons of disobedience" (Ephesians 2:1–2, emphasis added). In this text the apostle Paul describes Satan first as a "prince" with power, because he has authentic power in the world (1st John 5:19). This power has been given him by God (Luke 4:6). Satan has power over some illnesses (Luke 13:16; see also 2nd Corinthians 12:7—it's unknown if Paul's "thorn" was an illness or something else). In some sense, Satan has power over death (Hebrews 2:14). The reason Satan is called a prince rather than a king is that there is only one King—Jesus Christ (1st Timothy 6:15).
Satan also has power over some people. The "sons of disobedience" referred to in Ephesians 2:2 are those who have not trusted Christ as Lord and Savior (cf. Acts 26:18; 2 Corinthians 4:4; Revelation 13:12). The demons are also under the rule of Satan (Matthew 12:24), and one of his titles is "prince of demons" (Matthew 9:34). Satan has a kingdom (Matthew 12:26) and a throne (Revelation 2:13). Satan is called a prince because he is a ruler and possesses power to manifest evil in the world through influencing people and commanding demons.
"The air" in Ephesians 2:2 may refer to the invisible realm above the earth where Satan and his demons move and exist. This space, of course, is the location of the earth's atmosphere or "air." In Ephesians 6:12, Paul writes, "We do not wrestle against flesh and blood, but against the rulers, against the authorities, against the cosmic powers over this present darkness, against the spiritual forces of evil in the heavenly places." This evil realm called the "air" could be an actual locality, but it could also be synonymous with the "world" of John 12:31. This whole world is Satan's domain (Matthew 4:8–9).
Although Satan has power and authority in the current world system in which we exist, his power is limited, always under the sovereign control of God (Job 1:12), and it is temporary (Romans 16:20). God has not revealed all of the whys and whens concerning Satan's rule, but He has made it clear that there is only one way to escape the power of Satan's dominion, and that is through His Son, Jesus (Acts 26:18; Colossians 1:13–14). It is Jesus who, speaking of the impending cross, declared victory: "Now the prince of this world will be driven out" (John 12:31). Source
---
If you go to the store to buy Meat, don't run to the Milk section or the Junk Food aisle looking for it!!
The Meat Section is the
True Gospel of Jesus Christ
.
The Milk Section is likened to those who will not preach on sin and
Hell
, just a feel good message, the Social gospel.
The Junk Food Isle is the outright false doctrine AKA the prosperity gospel, name it and claim it, the Hebraic Roots movement and other false teachings!!
Feasting on just Milk and Junk will eventually cause you great harm, you can count on it!!
---
If you appreciate what this Ministry is doing to Expose the Fake Christians, Satanists, Witches, Communist/Socialist Democrats, R.I.N.O Republicans and the assault on our Conservative, True Christian values,
please consider a small donation
to help us continue and expand. This Ministry is not only under attack by the Enemy, we are now under attack from supposed Christians also. It is what
Tom Horn calls 'Blood on the Altar"
!