Matthew 24:5 "For many shall come in my name, saying, I am Christ; and shall deceive many."
I really don't believe anyone would think that she, a woman, is Jesus who is a MAN! Well maybe the wacko Feminists do. Maybe like these Hussies?
Obviously she is on drugs, deranged and Demon Possessed! But these whacked out feminists with the Jezebel Spirit hate men and want to dominate them.Perhaps she is a fan of this bimbo who wants all male babies and men killed!

Woman calls herself Jesus, Illuminati after slitting man's throat in Spartanburg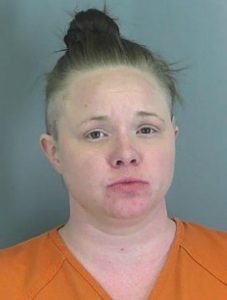 SPARTANBURG Co., S.C. (WSPA) — A Spartanburg woman,Ashley Nicole Bailey, is accused of cutting a man's throat before going on a verbal tirade in which she claimed to control Donald Trump and referred to herself as Jesus Christ.
Deputies responded around 6:15 p.m. Thursday to a report of an attempted suicide on Magness Drive. But when deputies arrived, a man with a large cut to his neck told them his throat had been cut.
The victim told a deputy that Bailey cut his throat after they got into an argument.
Bailey was found inside the residence with blood on her clothes and claiming that the victim had tried to kill himself, the report states. Bailey later told a deputy that she did not intend to hurt the victim. That's not all she allegedly said. A deputy noted in a report that she "talked of controlling Donald Trump with the bracelet on her arm as well as referring to herself as Jesus Christ and the Illuminati" Source here.