AC/DC founding member Malcolm Young dead at 64
He reportedly had Dementia! He surely was on the "Highway to hell" and is now listening to "Hell Bells" if he did not repent and turn to Jesus Christ!
Matthew 7:13-14 Enter ye in at the strait gate: for wide is the gate, and broad is the way, that leadeth to destruction, and many there be which go in thereat: Because strait is the gate, and narrow is the way, which leadeth unto life, and few there be that find it.
 Jon Watkins  Exposing Satanism and Witchcraft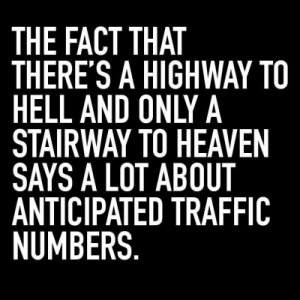 H/T to a friend on Facebook for the inspiration for this. 97.7 HTZ-FM's photo.
In no way do I endorse the Satanic Rock bands or the music they produce(d), however there is some truth to what they sing about.
AC/DC sings about a highway to Hell and the majority of the population of the world is on that highway. Its the biggest traffic jamb in history and no one seems to notice, nor care. Its one big party on that highway and at the end of it is a firery pit in eternity. There are also many feeder roads and entrance ramps onto that highway. Many are spectators thinking they are between the highway and the stairway, but are actually being merged on to the highway of doom.
Led Zeppelin sings about a Stairway to Heaven, but deceives people into thinking it can be bought. That Stairway, or gate as scripture above calls it, is very narrow. There is only one way to enter that gate as Jesus states in John 14:6-7 Jesus saith unto him, I am the way, the truth, and the life: no man cometh unto the Father, but by me. If ye had known me, ye should have known my Father also: and from henceforth ye know him, and have.
Good news is there is one exit ramp off of that highway to hell. Notice I said ONE, and not many as some believe. If you would like to get OFF that highway to hell and enter into the Gate to heaven, you can do that no matter what your past. You can be a drunkard, a murderer, an adulterer, and have committed many other sins. God loves you and is waiting for you to call on his Son Jesus to save you. Click here to find out how to be saved.
---
Heavy Metal Christian Rock Star Tim Lambesis: 'I'm an Atheist'
Heavy Metal Christian Rock Star is a misnomer. Heavy Metal and Rock Star should not even be mentioned in the same sentence with Christian. Sadly, this is the way the church has gone trying to lure in bodies, Young people, trying to pander to their worldly desires.
Lucifer is the father of it and he is all to happy to step in, fill that niche and all it does is send lost souls to Hell. Some of these Churches even play rock and roll or Country music incorporating it into the worship service.
Its called the Seeker Sensitive Movement. See some articles here about this Demonic Movement
The facts are, The Majority of these Musicians claim to be Christian and are anything but. They are of the Father the devil as is the case with Tim Lambesis of this satanic band " As I Lay Dying". The man says he is an Atheist, but I submit he is a Satanist! Another demon possessed singer who has come out and says She now rejects Christianity is that Jezebel Katy Perry. You can read about her demonic spew here, Katy Perry Rejects Christianity, does not believe Heaven and Hell. How many worship this devil and will follow what she does?
But its not only the musicians, its the modern day Sadducees and Pharisees. Church leaders of Major Denominations are actually endorsing this. Watch this Church service in which Gabriel Swaggart addresses these in the Synagogue of Satan in a Message entitled "A New Cart" Its a Church service on a Sunday morning.
Now on to the story that inspired the above. Also see Convicted Heavy Metal 'Christian' Singer Admits Being Atheist, Duped Fans to Sell Music

Heather Clark ChristianNewsNetwork
A so-called Christian heavy metal band whose frontman was convicted of attempting to hire a hitman to murder his estranged wife has admitted that it duped fans into believing that they were Christian in order to sell their music.
"Truthfully, I was an atheist," Tim Lambesis, the lead singer and founder of As I Lay Dying told the Alternative Press in a recent interview. "I actually wasn't the first guy in As I Lay Dying to stop being a Christian. In fact, I think I was the third. The two who remained kind of stopped talking about it, and then I'm pretty sure they dropped it, too."
The publication noted that his wife, Meggan, had likewise divulged in divorce papers that Lambesis had become an atheist. Lambesis, in admitting his atheism, outlined that he turned away from Christianity as he majored in religious studies while attending college through a long distance program.
"In the process of trying to defend my faith, I started thinking the other point of view was the stronger one," he said.
And one sin led to another, turning his renunciation of Christ into justification for his actions.
"The first time I cheated on my wife, my interpretation of morality was now convenient for me," Lambesis explained. "I felt less guilty if I decided, "Well, marriage isn't a real thing, because Christianity isn't real. God isn't real. Therefore, marriage is just a stupid piece of paper with the government."
But he continued to profess to be a Christian, as did others in the band, in order to sell records to Christian music fans.