This may come as a big surprise and shock to those of you who follow this ministry knowing the hard stand I take.
Our Enemy is NOT Islam or Muslims, False Religions, Satanists or Witches, Communists, Rocket Man, The Democrats, (specifically Crooked Hillary Clinton and that whole Cabal) The Swamp that is filled with Republican Scum, Antifa, Black Lives Matter, or even Illegal Aliens!
NO! Although the real enemy uses the aforementioned and many more as his pawns, God still loves them and will save them, if they call out to him before they draw their last breath! 
John 3:16 "For God so loved the world, that he gave his only begotten Son, that whosoever believeth in him should not perish, but have everlasting life."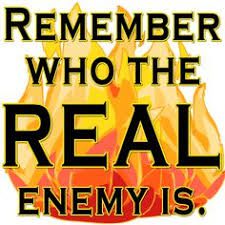 I have to constantly remind myself of that fact every time anger rises up in me due to the dirty deeds they engage in.
The Apostle Paul warned the entire world who are real enemy is. Ephesians 6:10-13 "Finally, my brethren, be strong in the Lord, and in the power of his might. 11 Put on the whole armour of God, that ye may be able to stand against the wiles of the devil. 12 For we wrestle not against flesh and blood, but against principalities, against powers, against the rulers of the darkness of this world, against spiritual wickedness in high places. 13 Wherefore take unto you the whole armour of God, that ye may be able to withstand in the evil day, and having done all, to stand.
In the Book of Daniel, we are given another glimpse of who the enemy is. Fallen angels who fight against God's Holy Angels!
Daniel 10:12-14 "Then said he unto me, Fear not, Daniel: for from the first day that thou didst set thine heart to understand, and to chasten thyself before thy God, thy words were heard, and I am come for thy words. 13 But the prince of the kingdom of Persia withstood me one and twenty days: but, lo, Michael, one of the chief princes, came to help me; and I remained there with the kings of Persia. 14 Now I am come to make thee understand what shall befall thy people in the latter days: for yet the vision is for many days."
The Church, or should I say the "so called Church", is battling the wrong enemy because they can't identify that enemy. There are a few of us who know who the real enemy is and we are trying to get the soldiers directed and focused on that enemy, without much success I might add. There are to many who are battling in the physical realm, when it is a spiritual battle being waged in the supernatural realm. You can't fight a spiritual battle in the flesh! You will be defeated like a domestic dog who is being attacked by a pack of ravenous Hyenas.
The best defense and lie Satan has propagated in the mind of humans is that he and his demons do not exist. He has also had success in getting some so called Christians to believe that Heaven and Hell might not exist. Can you imagine that! 
Satan IS in power and is the god of the world system Ephesians 2:2 and 2nd Corinthians 4:3-4
What does it mean that Satan is prince of the power of the air (Ephesians 2:2)?
"And you were dead in the trespasses and sins in which you once walked, following the course of this world, following the prince of the power of the air, the spirit that is now at work in the sons of disobedience" (Ephesians 2:1–2, emphasis added). In this text the apostle Paul describes Satan first as a "prince" with power, because he has authentic power in the world (1 John 5:19). This power has been given him by God (Luke 4:6). Satan has power over some illnesses (Luke 13:16; see also 2 Corinthians 12:7—it's unknown if Paul's "thorn" was an illness or something else). In some sense, Satan has power over death (Hebrews 2:14). The reason Satan is called a prince rather than a king is because there is only one King—Jesus Christ (1 Timothy 6:15).

Satan also has power over some people. The "sons of disobedience" referred to in Ephesians 2:2 are those who have not trusted Christ as Lord and Savior (cf. Acts 26:18; 2 Corinthians 4:4; Revelation 13:12). The demons are also under the rule of Satan (Matthew 12:24), and one of his titles is "prince of demons" (Matthew 9:34). Satan has a kingdom (Matthew 12:26) and a throne (Revelation 2:13). Satan is called a prince because he is a ruler and possesses power to manifest evil in the world through influencing people and commanding demons.

"The air" in Ephesians 2:2 may refer to the invisible realm above the earth where Satan and his demons move and exist. This space, of course, is the location of the earth's atmosphere or "air." In Ephesians 6:12, Paul writes, "We do not wrestle against flesh and blood, but against the rulers, against the authorities, against the cosmic powers over this present darkness, against the spiritual forces of evil in the heavenly places." This evil realm called the "air" could be an actual locality, but it could also be synonymous with the "world" of John 12:31. This whole world is Satan's domain (Matthew 4:8–9).

Although Satan has power and authority in the current world system in which we exist, his power is limited, always under the sovereign control of God (Job 1:12), and it is temporary (Romans 16:20). God has not revealed all of the why's and when's concerning Satan's rule, but He has made it clear that there is only one way to escape the power of Satan's dominion, and that is through His Son, Jesus (Acts 26:18; Colossians 1:13–14). It is Jesus who, speaking of the impending cross, declared victory: "Now the prince of this world will be driven out" (John 12:31). Source: Got Questions
How is Satan god of this world (2 Corinthians 4:4)?

The phrase "god of this world" (or "god of this age") indicates that Satan is the major influence on the ideals, opinions, goals, hopes and views of the majority of people. His influence also encompasses the world's philosophies, education, and commerce. The thoughts, ideas, speculations and false religions of the world are under his control and have sprung from his lies and deceptions.

Satan is also called the "prince of the power of the air" in Ephesians 2:2. He is the "ruler of this world" in John 12:31. These titles and many more signify Satan's capabilities. To say, for example, that Satan is the "prince of the power of the air" is to signify that in some way he rules over the world and the people in it.

This is not to say that he rules the world completely; God is still sovereign. But it does mean that God, in His infinite wisdom, has allowed Satan to operate in this world within the boundaries God has set for him. When the Bible says Satan has power over the world, we must remember that God has given him domain over unbelievers only. Believers are no longer under the rule of Satan (Colossians 1:13). Unbelievers, on the other hand, are caught "in the snare of the devil" (2 Timothy 2:26), lie in the "power of the evil one" (1 John 5:19), and are in bondage to Satan (Ephesians 2:2).

So, when the Bible says that Satan is the "god of this world," it is not saying that he has ultimate authority. It is conveying the idea that Satan rules over the unbelieving world in a specific way. In 2 Corinthians 4:4, the unbeliever follows Satan's agenda: "The god of this world has blinded the minds of unbelievers, so that they cannot see the light of the gospel of the glory of Christ." Satan's scheme includes promoting false philosophies in the world—philosophies that blind the unbeliever to the truth of the Gospel. Satan's philosophies are the fortresses in which people are imprisoned, and they must be set free by Christ.

An example of one such false philosophy is the belief that man can earn God's favor by a certain act or acts. In almost every false religion, meriting God's favor or earning eternal life is a predominant theme. Earning salvation by works, however, is contrary to biblical revelation. Man cannot work to earn God's favor; eternal life is a free gift (see Ephesians 2:8-9). And that free gift is available through Jesus Christ and Him alone (John 3:16; 14:6). You may ask why mankind does not simply receive the free gift of salvation (John 1:12). The answer is that Satan—the god of this world—has tempted mankind to follow his pride instead. Satan sets the agenda, the unbelieving world follows, and mankind continues to be deceived. It is no wonder that Scripture calls Satan a liar (John 8:44). Source: Got Questions
See Principalities, Powers and Spiritual Wickedness in High places for a more detailed explanation of Satan's kingdom
The Hierarchy of the doomed Luciferian kingdom
Lucifer
god of this world but only for a short time!!

Principalities
Fallen Angels who are over the Countries. Rule the Powers

Powers
Lesser Fallen Angels who are over a State, Province, or Territory in a Country

Spiritual Wickedness in high places
One or more will be over a County in the state and One or more will be over a City in that County right down to a demon over a street and house on that street.