FAIRFIELD, Calif. — The grandmother of 10 children who were removed from a squalid house in California said her grandkids "lived in torture" every day and accused their father of sadism and devil worship.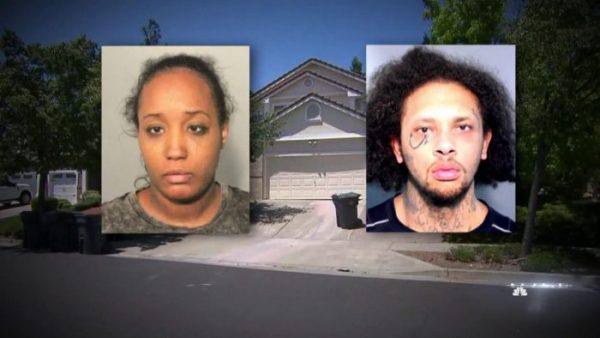 "They went through a lot — a lot of abuse," Wanda Rogers, the maternal grandmother of the children, told NBC News late Monday night.
Rogers said the children had told her appalling stories of abuse.
"Every day they lived in torture, every day, all day long," she said. Rogers is currently housing several of the children and the others are also with extended family members.
Police arrested the children's father, Jonathan Allen, on Friday and charged him with nine counts of felony torture and six counts of felony child abuse. Allen, 29, is being held on $5.2 million bail and has pleaded not guilty.
The Fairfield Police Department said officers first encountered the children on March 31 after responding to a report of a missing child. As part of that search, officers went through the residence and found "unsafe and unsanitary living conditions, including garbage and spoiled food on the floor, animal and human feces and a large amount of debris making areas of the house unpassable," Lt. Greg Hurlbut said at a news conference Monday.
Solano County Child Welfare Services took custody of all 10 of the children, who range in age from 4 months to 12 years, that night, Hurlbut said.
The children's mother, Ina Rogers, was arrested that night on child endangerment charges and has since been released after posting $10,000 bail.
Hurlbut said police opened an investigation and were able to interview the children, who detailed disturbing incidents of abuse that went back several years.
"The children described incidents of intentional abuse resulting in puncture wounds, burns, bruising, injuries consistent with being shot with a pellet gun or a BB gun," he said.
Sharon Henry, chief deputy district attorney for Solano County, said she was "horrified by the statements that were given by these children."
The children's grandmother accused her son-in-law of devil worship and provided pictures that she says show his " devil room." The photos appear to show a table with a knife and a Satanist book.
Police have said some of the abuse appeared to be for a "sadistic purpose," but did not elaborate on what that meant.
A book titled "Awakening Lucifer" that Wanda Rogers says her son-in-law kept in his " devil room." Wanda Rogers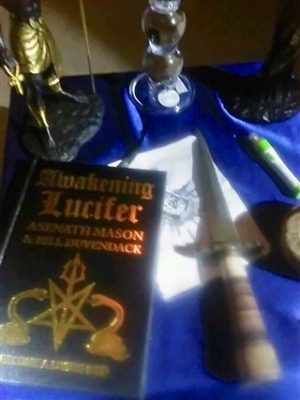 "Jonathan worships the devil. He had a devil room, a devil room that he called a meditation room," Wanda Rogers said.
"I can't believe we're going through this, my whole family, this is a nightmare," she said, crying.
NBC News is not naming the children because they are reported to be victims of torture and child abuse.
Allen said he was neither a "monster" nor a Satanist in a jailhouse interview Tuesday with NBC affiliate KCRA of Sacramento.
"I'm not 100 percent perfect, I'm not perfect. No one is perfect," Allen said. "But I am not an animal, I am not a torturer, and I am not a monster." He said he does not have an attorney.
Allen said he has never spanked his children, although he may have raised his voice with them.
He also said he practices kabbalah, or Jewish mysticism.
"I live a very spiritual life — not in the sense that I believe in like offerings and like doing torturous things to kids, and these like satanic things that they're trying to say that I do. That's not what I do," he said.
The children's mother denied that she or her husband had abused their kids.
"There's no broken bones. There is no major scars, nothing," Rogers told reporters in front of her house. "My kids get bumped and bruised and scratched because they're kids, but that's it." Rogers insisted that she and her husband love their children.
"My children are my life," she said.
Rogers, 30, said child protection officials visited their home several years ago but did not say why. Fairfield police did not immediately respond to questions about this visit.
Allen's family said in a statement that they were "appalled, disturbed, and saddened about what had occurred" when they heard about the accusations.
"We have not kept in contact with them for years. We hope that the children will be together and far away from these horrible conditions that they were kept in by the ones who were supposed to love and protect them from harm," his aunt and uncle said in the statement.
The arrests come just months after another high-profile case in the state involving child abuse, after authorities say they found children shackled and filthy in a suburban home in Perris in January.
Prosecutors have said the children were starving and beaten, choked and shackled to their beds.
The parents in that case have pleaded not guilty and their trial is pending.
Alan Cohen reported from Fairfield, and Daniella Silva from New York.
Source: NBC News
---
If you go to the store to buy Meat, don't run to the Milk section or the Junk Food aisle looking for it!!
The Meat Section is the
True Gospel of Jesus Christ
.
The Milk Section is likened to those who will not preach on sin and
Hell
, just a feel good message, the Social gospel.
The Junk Food Isle is the outright false doctrine AKA the prosperity gospel, name it and claim it, the Hebraic Roots movement and other false teachings!!
Feasting on just Milk and Junk will eventually cause you great harm, you can count on it!!
---
If you appreciate what this Ministry is doing to Expose the Fake Christians, Satanists, Witches, Communist/Socialist Democrats, R.I.N.O Republicans and the assault on our Conservative, True Christian values,
please consider a small donation
to help us continue and expand. This Ministry is not only under attack by the Enemy, we are now under attack from supposed Christians also. It is what
Tom Horn calls 'Blood on the Altar"
!