The Prince of Darkness was Prince Rogers Nelson's god
See update below
Prince was a Jehovah's Witness. They are NOT Christians any more the Mormons or Catholic are. They deny Jesus Christ. To be a Christian, you must follow the New Testament teachings and have a personal relationship with Jesus, ie, you must be Born Again. That is what a Christian is!
Jehovah's Witness's have their own "bible" they follow. The Apostle Paul warns about such false teachings: Galatians 1:6-9 "I marvel that ye are so soon removed from him that called you into the grace of Christ unto another gospel: 7 Which is not another; but there be some that trouble you, and would pervert the gospel of Christ. 8 But though we, or an angel from heaven, preach any other gospel unto you than that which we have preached unto you, let him be accursed. 9 As we said before, so say I now again, If any man preach any other gospel unto you than that ye have received, let him be accursed."
Prince and all other JW's are "Accursed" for believing and preaching another, a False gospel! Prince is now in Hell awaiting the Great White throne Judgment. At that time he will be cast into the Lake of Fire with Satan and the rest of his followers. Hebrews 9:27 "And as it is appointed unto men once to die, but after this the judgment:"
Treated for Drug Overdose Days Before Death
If he would have known the REAL KINGS of kings instead of the false JW one, he might still be alive!

Update April 23 2017: I wonder if it is just a coincidence that Vanity died at age 57 also?
Prince Protégé turned Born Again Christian Vanity Dies at 57
Not saying there is a connection, but the others that were in the Prince of Darkness organization who are about to turn 57, may want to call on the name of Jesus!
 Prince was reading Steve Quayle's Book on the Giants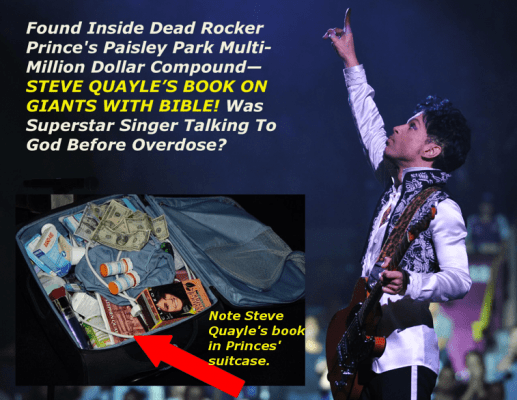 Haunting Images show the inside of Prince's Paisley Park compound including the elevator where he overdosed on Fentanyl – with bundles of cash, drugs and a bag labelled 'opium' inside his vault. A chilling video taken inside Prince's Paisley Park compound moments after his body was found has been released by cops alongside multiple photos which show (Steve Quayle's book on Giants), bottles of drugs, wads of cash and personal belongings piled up in the compound where he spent his last days holed up. The footage reveals a home festooned in the singer's achievements, yet strangely lacking of many personal touches, such as photos of friends or family. Sadly, it also revealed Prince's battle with drugs, with pills bottles found scattered throughout the multi-million-dollar home, where he had lived for almost all of his adult life, along with a vault full of files, drugs and cash.
IMPORTANT SKYWATCH NOTE: Tom Horn emailed Steve Quayle and asked if he would comment on his book being found in Prince's suitcase with personal belongings. Here is Steve's reply:
TOM, MY PRAYER IS THAT SOMETHING MAY HAVE STRUCK A CHORD IN PRINCE'S HEART FOR JESUS, IN THE CLOSING MOMENTS OF HIS LIFE. SHARING THE LOVE OF CHRIST WITH THOSE WHO ARE DECEIVED BY THE DEVIL IS A WONDERFUL EXAMPLE OF GOD'S GRACE EVEN THOUGH WE WILL NEVER KNOW WHOSE LIVES THE LORD LET US TOUCH FOR HIM UNTIL ETERNITY. THE FACT THAT PRINCE WOULD BE INTERESTED IN THE GENESIS 6 STORY OF FALLEN ANGELS SEX WITH HUMAN WOMEN THAT PRODUCED THE LEGENDARY GIANTS, ALONG WITH THE MEN AND WOMEN OF ANCIENT MYTHS AND LEGENDS INCLUDING THEIR TECHNOLOGY AND ARCHITECTURE SHOWS HIS INTEREST IN THE ULTIMATE SOURCE OF EMPIRICAL HISTORY—THE BIBLE AND IT'S ANSWERS FOR OUR ORIGIN, DESTINY AND THE CONFLICT BETWEEN GOOD AND EVIL.
MAINSTREAM CHURCHES, IN HAVING FAILED TO DEAL WITH AND TEACH THE GENESIS 6 NARRATIVE, HAVE ABANDONED BIBLICAL REVELATIONS, WHICH CAN PROVIDE ANSWERS TO THOSE HEARTS DESPERATELY SEARCHING FOR MEANING AND PURPOSE IN LIFE BEYOND SEX, DRUGS, AND ROCK AND ROLL, ANSWERING THE QUESTION OF WHAT HAPPENS WHEN WE DIE WITH THOUGHTS OF ETERNITY, BEYOND THE LIES AND DECEPTION NOW BEING OFFERED. THE GENESIS 6 NARRATIVE PROVIDES THE BACKGROUND AND DOCUMENTATION FOR WHAT PEOPLE HAVE BEEN SEEKING ANSWERS FOR. WHEN YOU UNDERSTAND THE CIRCUMSTANCES OF THE SPIRITUAL CONFLICTS THAT RAGE AGAINST US, AND FROM WITHIN US, AT THE TOP OF THE LIST IS THE EVOLUTIONARY LIE THAT WILL LEAD THE WORLD INTO THE GREAT END-TIME DECEPTION THAT YOU TOM, MYSELF AND OTHERS HAVE WRITTEN AND SPOKEN ABOUT FOR DECADES. THE LIE THAT IS BEING SET UP AND DRILLED INTO MANKIND'S CONSCIOUSNESS IS THAT "EXTRATERRESTRIAL ALIENS" CREATED US AND ARE COMING BACK TO SAVE US FROM OURSELVES, WHICH THE WHOLE WORLD WILL RUN AFTER AS "THE APOSTATE CHURCHES" EMBRACE THE DEVILS INVITE. JESUS IS THE SAVIOR OF A BROKEN, HURTING WORLD, WHICH FINDS ITSELF LANGUISHING IN THE SHACKLES OF EMPTINESS, ALIENATION AND MASSIVE MENTAL AND PHYSICAL PAIN. ALL THE MONEY, FAME, FORTUNE, AND PERKS OFFERED BY THE "DEVIL'S DELICATESSEN" CAN NEVER FILL A HUNGRY HEART SEARCHING FOR PURPOSE AND MEANING ESPECIALLY WHEN CONFRONTED WITH THE END OF LIFE! JESUS STATED THAT HE IS THE RESURRECTION AND THE LIFE AND IN ROMANS 10:13 IT SAYS: "For whosoever shall call upon the name of the Lord shall be saved." I PRAY THAT PRINCE CALLED OUT TO JESUS IN THE CLOSING MOMENTS.
READ MORE ABOUT THE PRINCE DISCOVERIES AT: http://www.dailymail.co.uk/news/article-5636485/Heartbreaking-images-released-Prince-dead-inside-Paisley-Park-compound.html
---
If you go to the store to buy Meat, don't run to the Milk section or the Junk Food aisle looking for it!!
The Meat Section is the
True Gospel of Jesus Christ
.
The Milk Section is likened to those who will not preach on sin and
Hell
, just a feel good message, the Social gospel.
The Junk Food Isle is the outright false doctrine AKA the prosperity gospel, name it and claim it, the Hebraic Roots movement and other false teachings!!
Feasting on just Milk and Junk will eventually cause you great harm, you can count on it!!
---
If you appreciate what this Ministry is doing to Expose the Fake Christians, Satanists, Witches, Communist/Socialist Democrats, R.I.N.O Republicans and the assault on our Conservative, True Christian values,
please consider a small donation
to help us continue and expand. This Ministry is not only under attack by the Enemy, we are now under attack from supposed Christians also. It is what
Tom Horn calls 'Blood on the Altar"
!