He was given a 9 year prison sentence in 2014 but released and deported after only 4 years arriving in Nebraska in early January.
Nurse convicted of plotting to eat 14-year-old girl detained in Nebraska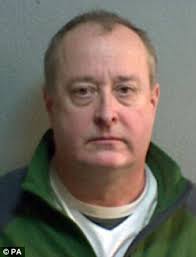 NY Daily News – A would-be cannibal convicted of trying to eat a teenage girl in England is in custody in the United States after he moved to Nebraska earlier this month.
Dale Bolinger, 62, was convicted in 2014 in Canterbury, England of plotting to rape, behead and eat a 14-year-old girl.
He was sentenced to nine years in prison but was released early, and on Jan. 4 registered as a sex offender in Blair, Neb., the Omaha World-Herald reported.
Omaha World Herald – Bolinger was dubbed the "Canterbury Cannibal" after he was convicted in 2014 in Canterbury, England, of attempting to meet a child following sexual grooming, and possession and distribution of indecent materials.
Bolinger told a person who said she was a 14-year-old girl that he wanted to behead her and eat her after they had sex, according to British newspapers' accounts of the trial. The girl did not show up at the time the two had arranged to meet.
British police reportedly were told about Bolinger during the 2013 trial of 30-year-old New York City Police Officer Gilberto Valle, who was convicted of plotting to kidnap, kill and eat women. Valle and Bolinger exchanged messages about their fantasies.
Bolinger, an American citizen, was sentenced to nine years in prison. It's unclear why he was released and deported.
BBC – Dale Bolinger, 58, bought an axe the day before he was due to meet a girl he chatted with online.
He was found guilty in July of attempting to meet a girl under the age of 16 following sexual grooming.
During online conversations, Bolinger described sex acts he wanted to perform on her and how he would kill her.
Canterbury Crown Court heard he had online chats with someone he believed to be a 14-year-old Mexican girl called "Eva", who at other times claimed to be 16, with the name Nada.
He arranged to meet her at Ashford International railway station on 18 September 2012 but she did not turn up.
He told police he was interested in children as food and that he had a computer disc containing an image of a girl on a serving plate with an apple in her mouth.
His pseudonyms included "Meatmarketman".
"There is no doubt in my mind Bolinger represents a very real and great danger to the public," he said.
However….Psychiatrists determined that Bolinger was not suffering from any form of mental illness.
Right! He is suffering from Demon Possession!