Leviticus 18:23 "Neither shalt thou lie with any beast to defile thyself therewith: neither shall any woman stand before a beast to lie down thereto: it is confusion."
Exodus 22:19 – Whosoever lieth with a beast shall surely be put to death.
Deuteronomy 27:21 – Cursed be he that lieth with any manner of beast. And all the people shall say, Amen.
A discussion scheduled for later this month at California State University San Marcos appears slated to delve into the wild world of animal-based sex fetishes. (Will they "discuss" the scriptures above? NOT!)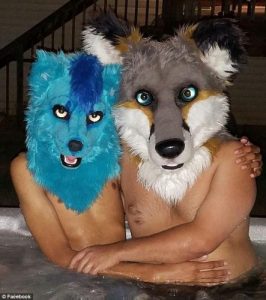 The event, "Furries Vs. Pet Play," is one among many slated as the campus marks "gAyPRIL," billed on the school's website as a monthlong campuswide celebration of the lesbian, gay, bisexual, transgender, questioning and ally community.
A brief description of the 50-minute discussion, set for April 25 at the campus LGBTQA Pride Center, states on the university's website: "How much do you know about these two groups? Do you know that they are two different fish in a pond. Come find out why in this weekday discussion."
Online definitions of "furries" vary, but basically it's a group of people who enjoy dressing up in human-sized animal costumes. They like to call themselves a "community" and often get together through large conventions. Not all furries turn their fascination into a sexual thing, or have sex in their costumes, but plenty do.
"Pet play," on the other hand, is described online as a subculture within the BDSM world in which a person likes to pretend to be an animal and engages in submissive and other animal-like behaviors in part to enjoy and achieve sexual gratification. Likewise, the other person gets aroused when their partner role-plays as a pet. Sometimes people use animal tail butt plugs in this capacity to heighten their sexual enjoyment.
Cal State San Marcos' media relations office on Monday and Tuesday rebuffed and ignored several calls and multiple email requests for comment on the nature of the "pet play" discussion and what specific role it serves in educating and supporting its students. The Office of Diversity, Education Equity and Inclusion similarly ignored several email requests for comment. See the rest at the Collage Fix if you can stomach it!
Furry annual convention cancelled amid community's bitter divisions over rise of alleged neo-Nazi Mr 'Foxler' and the 'altfur' movement
The rise of the alt-right movement has many people nervous about the spread of neo-Nazi sympathies – and the furry community is apparently not immune to these political trends.
In shocking news, the Rocky Mountain Fur Con, the annual event that brings together furries, has been canceled after a splinter group known as the Furry Raiders came under fire for embracing 'altfur' symbols similar to those of Nazis and fascists.
The chairman of the event posted a message on Twitter saying that the Furry Raiders have started to promote intolerance within the furry community.
'The furry community and Rocky Mountain Fur Con have always strived to be a place of inclusion; a place where furs from all walks of life, differing religious, political, social and personal views can come together to celebrate the thing that we have in common, the love of our fandom,' wrote Sorin, the chairman of Rocky Mountain Fur Con. Read the rest and see more Images here.
---
If you go to the store to buy Meat, don't run to the Milk section or the Junk Food aisle looking for it!!
The Meat Section is the
True Gospel of Jesus Christ
.
The Milk Section is likened to those who will not preach on sin and
Hell
, just a feel good message, the Social gospel.
The Junk Food Isle is the outright false doctrine AKA the prosperity gospel, name it and claim it, the Hebraic Roots movement and other false teachings!!
Feasting on just Milk and Junk will eventually cause you great harm, you can count on it!!
---
If you appreciate what this Ministry is doing to Expose the Fake Christians, Satanists, Witches, Communist/Socialist Democrats, R.I.N.O Republicans and the assault on our Conservative, True Christian values,
please consider a small donation
to help us continue and expand. This Ministry is not only under attack by the Enemy, we are now under attack from supposed Christians also. It is what
Tom Horn calls 'Blood on the Altar"
!