Matthew 7:15-20 "Beware of false prophets, which come to you in sheep's clothing, but inwardly they are ravening wolves. Ye shall know them by their fruits. Do men gather grapes of thorns, or figs of thistles? Even so every good tree bringeth forth good fruit; but a corrupt tree bringeth forth evil fruit. A good tree cannot bring forth evil fruit, neither can a corrupt tree bring forth good fruit. Every tree that bringeth not forth good fruit is hewn down, and cast into the fire. Wherefore by their fruits ye shall know them."
Hillary said she wanted to be a preacher:  Pastor Hillary? The Wicked Witch wants to be a Televangelist and Preach her Social Gospel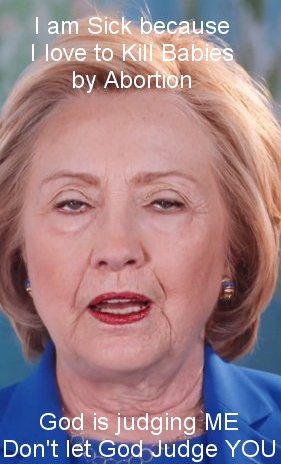 Psychological Projection is a defense mechanism in which the human ego defends itself against unconscious impulses or qualities (both positive and negative) by denying their existence in themselves while attributing them to others. For example, a person who is habitually rude may constantly accuse other people of being rude. It incorporates blame shifting and can manifest as shame dumping. Source: Wikipedia
Hillary: Rudy Giuliani is 'possessed' and 'aliens have seized his brain'
'I don't understand when it happened'
Hey Jezebel, you refer to the above definition of Psychological projection, then it happened when you were conceived as a result of the Babalon Working!
Hillary Clinton Says Rudy Giuliani Has 'Been Possessed' – Suggests His Brain 'May Have Been Seized by Aliens'
 Cristina Laila | Gateway Pundit – Crooked Hillary Clinton on Tuesday night suggested Rudy Giuliani's brain may have been seized by aliens.
Hillary has been on a media blitz lately cheering the Soviet-style impeachment hearings and blaming her 2016 election loss on flashing videos that appear and disappear on the dark web.
Now she's suggesting Rudy Giuliani is possessed by the devil — classic projection.
"What happened? It's almost like aliens seized his brain," Hillary said of Giuliani during an appearance on "The Late Show with James Corden."
"Truly he's been possessed," Hillary added.
WATCH:
Hillary Clinton is worried Rudy Giuliani may have had his brain seized by aliens 👽 pic.twitter.com/IpkAkJZPjq

— The Late Late Show with James Corden (@latelateshow) November 6, 2019
The Babalon Working was a series of magic ceremonies or rituals performed from January to March, 1946 by author, pioneer rocket-fuel scientist, co-founder of the Jet Propulsion Laboratory, and occultist Jack Parsons and Scientology founder L. Ron Hubbard. This ritual was essentially designed to manifest an individual incarnation of the archetypal divine feminine called Babalon. The project was based on the ideas of Aleister Crowley, and his description of a similar project in his 1917 novel Moonchild.

When Parsons declared that the first of the series of rituals was complete and successful he almost immediately met Marjorie Cameron in his own home, and regarded her as the elemental that he and Hubbard had called through the ritual. Soon Parsons began the next stage of the series, an attempt to conceive a child through sexual magick workings. Although no child was conceived, this did not affect the result of the ritual to that point. Parsons and Cameron, who Parsons now regarded as the Scarlet Woman – Babalon – called forth by the ritual, soon married.

The rituals performed drew largely upon rituals and sex magic described by English author and occult teacher Aleister Crowley. Crowley was in correspondence with Parsons during the course of the Babalon Working, and warned Parsons of his potential overreactions to the magick he was performing, while simultaneously deriding Parsons' work to others. Source Wikipedia.
---
If you go to the store to buy Meat, don't run to the Milk section or the Junk Food aisle looking for it!!
The Meat Section is the
True Gospel of Jesus Christ
.
The Milk Section is likened to those who will not preach on sin and
Hell
, just a feel good message, the
Social gospel
.
The Junk Food Isle is the outright false doctrine AKA the prosperity gospel, name it and claim it, the Hebraic Roots movement and other false teachings!!
Feasting on just Milk and Junk will eventually cause you great harm, you can count on it!!
---
If you appreciate what this Ministry is doing to Expose the Fake Christians, Satanists, Witches, Communist/Socialist Democrats, R.I.N.O Republicans and the assault on our Conservative, True Christian values,
please consider a small donation
to help us continue and expand. This Ministry is not only under attack by the Enemy, we are now under attack from supposed Christians also. It is what
Tom Horn calls 'Blood on the Altar"
!