Where did Halloween originate Part 2
The connection to Satanism and Witchcraft
Ephesians 5:11 "And have no fellowship with the unfruitful works of darkness, but rather reprove them."

In part one we showed you the ancient pagan and Druid connection. In part two we will show you the modern Spider Web of Witchcraft and Satanism in Halloween and all of the representation of darkness and evil.
Three Major Groups Consider Halloween A Sacred Holiday:

WITCHES/WICCANS
"Samhain: This is the " Witch's New Year" and the primary Sabbat from which all others flow." Source: (RavenWolf, Silver. Teen Witch, p. 42)
" Halloween is one of the four major Sabbats celebrated by the modern Witch, and it is by far the most popular and important of the eight that are observed…Witches regard Halloween as their New Year's Eve, celebrating it with sacred rituals…" Source: (Dunwich, Gerina. The Pagan Book of Halloween, p. 120) See more info on Witchcraft here
SATANISTS
We won't take up a lot of time touching on Satanism, Vampires, Zombies and the Illuminati relationship with Halloween.

1st Peter 5:8 "Be sober, be vigilant; because your adversary the devil, as a roaring lion, walketh about, (see Job 1:6-12) seeking whom he may devour:"

Halloween is also among Satanism's most cherished days. Anton LaVey, founder of The Church of Satan and author of The Satanic Bible writes: "After one's own birthday, the two major Satanic holidays are Walpurgisnacht (May 1st) and Halloween." Source: (LaVey, Anton Szandor. The Satanic Bible, p. 96) This is why I do not celebrate my birthday or anyone else's. People get upset when I tell them about what it represents. I just let them tell me happy birthday and I extend the courtesy back to them when their high holy day takes place!
The Satanic Calendar decrees for Halloween:
"One of the two most important nights of the year. . . Blood and sexual rituals. Sexual association with demons. Animal and human sacrifice-male or female." Source
Satanists practice the original customs and rituals of Halloween. Right down to the sexual rites and human sacrifice.
Former occultist Johanna Michaelsen reveals: " Halloween is also a prime recruiting season for Satanists." Source: (Michaelsen, Johanna. Like Lambs to the Slaughter, p. 192)
"The Satanic Bible as listing the main Satanic holidays as Walpurgisnacht (30-APR), Halloween (31-OCT), and the member's birthday." Source: (The Dictionary of Cults, Sects, Religions and the Occult by Mather & Nichols, (Zondervan, 1993), P. 244)


ILLUMINATI
October 31 – Samhain, also known as Halloween, or All Hallows Eve. This date is the Illuminati's highest day of human sacrifice.
The human sacrifice required during many of these occult dates needs to contain the following elements, each one of which is exaggerated to the highest possible degree:


1. Trauma, stress, and mental anguish, sheer terror
2. The final act in the drama should be destruction by a fire; preferably a conflagration.

A conflagration is one term for a great and destructive

fire

that threatens human life, animal life, health, and/or property. It may also be described as a blaze or simply a (large) fire. A conflagration can be accidentally begun, naturally caused (

wildfire

), or intentionally created (

arson

). Arson can be for fraud, murder, sabotage or diversion, or due to a person's

pyromania

. A

firestorm

can form as a consequence of a very large fire, in which the central column of rising heated air induces strong inward winds, which supply

oxygen

to the fire. Conflagrations can cause

casualties

including deaths or injuries from

burns

,

trauma

due to collapse of structures and attempts to escape, and

smoke inhalation

. Source:

Wikipedia

3. "People must die as human sacrifices, especially children, since Lord Satan looks upon a younger human sacrifice as his most desirable."


Mel Brown
OCTOBER 16, 2012
What's more disturbing is that in 2010, the U.K. made the Druids one of their nationally recognized religions. See the article here

Symbolism: Where do Witches, Goblin, Jack-O-Lanterns, etc. fit in?
What do all of the accouterments represent Part 1
Parades and Celebration
Know this: "The grand marshal of the Halloween parade is, and always has been, Death." Source: (Skal, David J. Death Makes a Holiday: The Cultural History of Halloween, p. 18)
During the early modern era in Ireland, Scotland, the Isle of Man and Wales, the festival included mumming and guising,[55] the latter of which goes back at least as far as the 16th century.[56] This involved people going house-to-house in costume (or in disguise), usually reciting verses or songs in exchange for food.[55] It may have come from the Christian custom of souling (see below) or it may have a Gaelic folk origin, with the costumes being a means of imitating, or disguising oneself from, the Aos Sí. In Scotland, youths went house-to-house on 31 October with masked, painted or blackened faces, often threatening to do mischief if they were not welcomed.[55]F. Marian McNeill suggests the ancient festival included people in costume representing the spirits, and that faces were marked (or blackened) with ashes taken from the sacred bonfire.[56] In parts of Wales, men went about dressed as fearsome beings called gwrachod.[55] In the late 19th and early 20th century, young people in Glamorgan and Orkneydressed as the opposite gender.[55] In parts of southern Ireland, the guisers included a hobby horse. A man dressed as a Láir Bhán (white mare) led youths house-to-house reciting verses—some of which had pagan overtones—in exchange for food. If the household donated food it could expect good fortune from the 'Muck Olla'; not doing so would bring misfortune.[57] Elsewhere in Europe, mumming and hobby horses were part of other yearly festivals. However, in the Celtic-speaking regions they were "particularly appropriate to a night upon which supernatural beings were said to be abroad and could be imitated or warded off by human wanderers".[55] As early as the 18th century, "imitating malignant spirits" led to playing pranks in Ireland and the Scottish Highlands.[55] Wearing costumes at Halloween spread to England in the 20th century, as did the custom of playing pranks.[55] The "traditional illumination for guisers or pranksters abroad on the night in some places was provided by turnips or mangel wurzels, hollowed out to act as lanterns and often carved with grotesque faces to represent spirits or goblins". Source: Wikipedia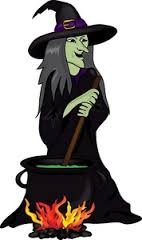 Witches

Witches are the reigning Queen of Halloween.
While Halloween masquerades as childish fun and frolic, it's serious business in the occult world. Witchcraft, Wicca, Satanism and paganism believe, on the night of Halloween, devils and spirits are unleashed. They perform their most hideous and potent rituals on the night of Halloween. Source

A pagan practice that was not eradicated upon the coming of Christianity was witchcraft. The word " witch" comes from the Anglo-Saxon Wicca, or "wise one." Witches were thought to be possessors of magic.
Witches, who worship the deities of nature, have living talismans or symbols through which they derive their dark powers. They invoke evil spirits to enter the bodies of their talismans (often called familiars). Some have dogs, owls, snakes or swine for their talismans, but the most common are cats.
The broomstick is a symbol of the male organ, on which the witch mounts and leaps high around the fields to "teach" the crops how high to grow. The notion of flying witches relates to the fact that witches believed they could fly great distances to their feasts by smearing their bodies with ointments containing drugs. The drugs gave them psychedelic "trips" making them think they flew.
The combination of the demonic activity they invited and the alternate state of consciousness induced by drugs, meditation, chanting, dancing and/or any combination thereof, could produce actual out of body experiences. Witches could actually visit places and be able to reveal evidence of their journey, which caused people to believe they could fly. If you've been lullabied by the gospel of Halloween that witches are harmless folks, wake up, witches worship the devil:
"In many instances, according to the confessions of the witches, besides their direct worship of the devil, they were obliged to show their abhorrence of the faith they had deserted by trampling on the cross, and blaspheming the saints, and by other profanations." Source: (Spence, Lewis. An Encyclopedia of Occultism, p. 433)
"The witches held a party at Hallowe'en and the women…sold their soul to the devil, would put a stick in their beds anointed with the fat of murdered babies…" Source: (Douglas, George William. The American Book of Days, p. 569)
Although witches vigorously protest they have no dealings with the devil, under the heading, "A Witch's God," the popular witch's training manual, Witchcraft: Theory and Practice, plainly states: "A Witch's God…He is…Lord of the Underworld [ Hell]…He is named Baphomet, Lucifer, Baal." Source: (Angeles, Ly de. Witchcraft: Theory and Practice, p. 60)
" Witchcraft is demonic worship in diametric opposition to the worship of the Heavenly Father Yahweh. Yahweh minces no words about it. He told Israel through Moses, "Thou shalt not suffer a witch to live" (Ex. 22:18). He says in Deuteronomy 18:10, "There shall not be found among you any one that makes his son or his daughter to pass through the fire, or that uses divination, or an observer of times, or an enchanter, or a witch."
Eventually the Druids themselves came to be regarded as witches. Witch hunting during Halloween became almost a national pastime in the colonial years of our nation. But that was yesterday. Halloween is regarded as the high "Sabbath" for practicing witches today.


Jack-o-Lanterns: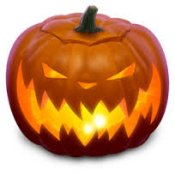 "If witches are the Queen of Halloween, the smiling jack-o-lantern is the King. The demonic jack-o-lantern leaves most historians baffled tracing its spooky origin. One popular tale, tells of Jack who tricked the devil in a deal for his soul. But the origin of the jack-o-lantern is much more sinister. It arrives from the Druid's ghastly reverence of the severed human head! They proudly decorated their houses and temples with bloody severed heads. The Druids believed the head housed the soul, hence the light or candle in the skull. The original jack-o-lantern was not a pumpkin or turnip, but a severed human head!" Source
As darkness set in on October 31st, the clan of Druids would put on their white robes and hoods. They would carry sickles and Celtic crosses as they began a torchlight procession. At the beginning of the procession, a male slave was killed and dragged by a rope fastened to his left ankle. The Druids would walk until they came to a house or a village where they shouted the equivalent of "trick or treat." The treat was a slave girl or any female to be given to the Druids. If the people refused to a girl as a "treat", blood was taken from the dead slave and used to draw a hexagram or six-pointed star on the door or wall of the village. Spirits of the "horned hunter of the night" were invoked by the Druids to kill someone in that house or village by fear that night.
If the house or village gave a girl as a "treat", the Druids put a pumpkin with a face carved in it in front of the door or gate of that place. Inside the pumpkin was a candle made of human tallow to keep evil spirits away. Thus, the Jack-O-Lantern was and is a sign that you have cooperated with Satan.
The treats or female victims were taken to Stonehenge where they were raped and killed and then sacrificed on the sacred bonefire until only glowing embers were left. The "bonefire" is the origin of the modern day bonfire. As a matter of luck for winter survival, all villagers were expected to use the glowing embers of the bonefire to light their hearths. Source
"It is believed that faces, rather than other images or symbols, were originally carved onto the pumpkin because they gave the jack-o-lantern the look of a head. The Celts of ancient times believed that the head was the most sacred part of the human body, for it housed a person's immortal soul." Source: (Dunwich, Gerina. The Pagan Book of Halloween, p. 32)
"…They hang the heads of their enemies from the necks of their horses, and, when they have brought them home, nail the spectacle to the entrances of their homes…" Source: (Strabo, Geography )

Satan always tries to mock and mimic the things of God: Revelation 20:4 "And I saw thrones, and they sat upon them, and judgment was given unto them: and I saw the souls of them that were beheaded for the witness of Jesus, and for the word of God, and which had not worshipped the beast, neither his image, neither had received his mark upon their foreheads, or in their hands; and they lived and reigned with Christ a thousand years."
"…The jack-o-lantern is generally presented in its traditional form as a festive euphemism for the death's-head, the triangular nose hole and rictus grin being the "dead" giveaways." Source: (Skal, David J. Death Makes a Holiday: The Cultural History of Halloween, p. 38)
"Carved and illuminated by a candle, they are symbolic of death and the spirit world." Source: (Thompson, Sue Ellen. Holiday Symbols and Customs, p. 256)
"A will-o'-the-wisp (/ˌwɪl ə ðə ˈwɪsp/), will-o'-wisp (/ˌwɪl ə ˈwɪsp/), or ignis fatuus (/ˌɪɡnɨs ˈfætʃuːəs/; Medieval Latin: "foolish fire") is an atmospheric ghost light seen by travellers at night, especially over bogs, swamps or marshes. It resembles a flickering lamp and is said to recede if approached, drawing travellers from the safe paths. The phenomenon is known by a variety of names, including jack-o'-lantern, friar's lantern, hinkypunk, and hobby lantern in English[1] folk belief, well attested in English folklore and in much of European folklore."Source: Wikipedia

The pumpkin is the medium of choice in America, but in Europe it could be a turnip, large beet, potato, rutabaga or even a skull with a candle in it. To the ancient Celts, the frightful face of the jack-o-lantern was representative of the god of the dead, Samhain, who would drive off less powerful evil spirits that were wandering about particular night. Seeing glimmering lights flickering over an English marsh or an Irish bog, people were certain dead souls had returned to earth. They would place the jack-o-lantern on posts and in windows to ward off the spirits of the dead on Halloween.
The word jack-o-Lantern is an abbreviation of "Jack of the Lantern." Jack is another name for joker or Satan. In the Irish tale, a man named Jack was fond of playing tricks on the devil. Annoyed, the devil tossed Jack a burning coal from hell. With the coal in his "lantern" Jack was condemned to walk the earth forever searching for rest. The jack-o-lantern is a Halloween idol that keeps alive an ancient symbol of demonic superstition.

Matthew 12:43-45 "When the unclean spirit (demon) is gone out of a man, (being cast out) he walketh through dry places, seeking rest, and findeth none. 44 Then he saith, I will return into my house from whence I came out; and when he is come, he findeth it empty, swept, and garnished. (it was cast out and then the person did not get saved, The Holy Spirit was not invited in) 45 Then goeth he, and taketh with himself seven other spirits more wicked than himself, and they enter in and dwell there: and the last state of that man is worse than the first. Even so shall it be also unto this wicked generation."
It has been said that the Celts displayed the Jack-O-Lantern in hopes of avoiding the curses and pranks of the evil spirits and the sinister Druids. It has been said that they displayed the ghoulish carving to show they were willing to offer sacrifices to the horrible god of the Druids, even if that meant offering one of their children. Now that you know the origins of this nasty custom hopefully you will not be willing to display the Jack-O-Lantern on your porch or step as so many people are so eager to do.
Just to show you the complete lack of discernment, take a quick look at this "Christian Jack-O-Lantern".

"I made this Jack-O-Lantern with a friend so that she could take it to the private Christian elementary school where she teaches for Halloween. We carved the Bible verse, John 8:12 into the pumpkin – it looks really great with a candle inside! The letters "O" and "B" are tricky because the insides of these letters must float"
Here is what it says in John 8:12 "Then spake Jesus again unto them, saying, I am the light of the world: he that followeth me shall not walk in darkness, but shall have the light of life." Following Jesus means avoiding everything that has the appearance of evil. What fellowship does the dark have with the light? We are not conform to the way of the heathan, rather show them the way, the truth and the light. Many of them are just lost and afraid or perhaps even well-meaning but deceived.
Romans 12:2 "And be not conformed to this world: but be ye transformed by the renewing of your mind, that ye may prove what is that good, and acceptable, and perfect, will of God."
2nd Corinthians 6:17 "Wherefore come out from among them, and be ye separate, saith the Lord, and touch not the unclean thing; and I will receive you," Halloween is an unclean thing people! You may want to educate yourself on an "Accursed thing" See that here
Vampires

Vampires weren't always fancied to be glamorous, alluring creatures. That is primarily a modern version thanks mostly to Hollywood and Television. The term "Vampire" didn't even exist in ancient days though even then, there were rumors of creatures with attributes similar to those of Vampires. These dark beings, spoken of in legend and mythology seemed to have one common denominator among them; drinking the blood of living beings as a force of maintaining their own evil existence. Source has very good info on the history of Vampires. This source also has good info
Excerpted from Halloween Express
Of all the monsters, demons and paranormal beings we associate with Halloween, the Vampire may have one of the most intriguing backgrounds. The Vampire that we see in today's media is often thought to be sexy, charismatic as well as beguiling. Women seem to be unafraid of falling prey to one of these ultimate bad boys and even have been known to risk their lives to be with one. Perhaps it's because of the Vampire's ability to mesmerize and intoxicate women with a heavy dosing of diabolical charm. Or perhaps it's the combination of attractiveness, danger, strength and immortality that is creating the allure. Perhaps the allure lies in the vampire's representation of true, pure, ultimate evil and sin. For man's fallen nature loves sin. Indulgence, especially of a sexual nature, is man's downfall. What can be more rebellious and evil than to drain the life blood from a human being? As with all sin, once you give in to it, it is very hard to get away. They say that once you drink blood, it becomes an obsession, an addiction. Or, given the female's propensity to change the male of the species, maybe the very idea of reforming the worst type of atrocious scoundrel, in the name of true love, is just too much for some girls to resist.

Zombies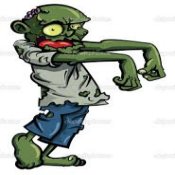 "The Walking Dead" is the title of the most popular TV series about zombies. There is a cult following with these types of shows that have a theme of darkness and death. This is why they fit so well in the Halloween scene.

etymology
1871, of West African origin (compare Kikongo zumbi "fetish;" Kimbundu nzambi "god"), originally the name of a snake god, later with meaning "reanimated corpse" in voodoo cult. But perhaps also from Louisiana creole word meaning "phantom, ghost," from Spanish sombra "shade, ghost." Sense "slow-witted person" is recorded from 1936.
The word "zombie" has several etymologies. One such is that the word has been derived from Carribean word "jumbie" meaning "ghost." Another etymology is that the word has been derived from "nzambi" which means "spirit of a dead person" in Kongo. Yet another version says that the word has come from "zonbi" which was used in Haitian Creole and Louisiana Creole.
According to Haitian folklore, the book Race, Oppression and the Zombie recounts, zombies are the product of spells by a voudou sorcerer called a bokor. The word is believed to be of West African origin and was brought to Haiti by slaves from that region.
Zombies are considered to be dead people who had come back to life or have a resemblance to it with no intelligence. They are considered creatures who only want to feed or attack unless they are controlled. These are foul creatures created by voodoo or through the bite of another zombie. These creatures are attracted more to human beings.…zombies are considered to be creatures that have no thoughts.
Zombie as a fictional character is an "undead creature or a person with an entranced state." Zombies are more popular in modern fiction and horror films. Zombies became so famous after George A. Romero's film "Night of the Living Dead" (1968).Source

Zombies are undead creatures, typically depicted as mindless, (does that remind you of some in government?) reanimated human corpses with a hunger for human flesh. Source Wikipedia
Zombies are soulless corpses that are animated by dark magic. These undead abominations act as slaves controlled by the one who created and are used to perform the evil bidding of their masters.
Historically, zombies come from practitioners of voodoo magic, and are very real. This west African religion uses many different methods of creating magic. Some of these methods use drugs and various other poisons, as well as demonic forces. Source"

Ghouls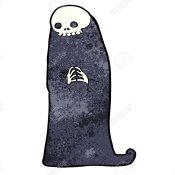 ghoul (n.) etymology
1786, goul, in the English translation of William Beckford's Orientalist novel "Vathek" (which was written in French), from Arabic ghul, an evil spirit that robs graves and feeds on corpses, from ghala "he seized."
Ghoul, Arabic Ghūl, in popular legend, demonic being believed to inhabit burial grounds and other deserted places. In ancient Arabic folklore, ghūls belonged to a diabolic class of jinn (spirits) and were said to be the offspring of Iblīs, the Muslim prince of darkness. They were capable of constantly changing form, but their presence was always recognizable by their unalterable sign: ass's hooves.
Considered female by the ancients, the ghūl was often confused with the sílā, also female; the sílā, however, was a witchlike species of jinn, immutable in shape. A ghūlstalked the desert, often in the guise … (100 of 278 words)
Ghouls are creatures related to graveyards and consume human flesh. Ghouls were first seen in the famous book "One Thousand and One Nights." In English, ghouls were first seen in William Beckford's novel "Vathek" which has a description of a ghoul of the Arabian folklore. (This may be when the western world first heard of them, but they have been around for thousands of years.)
Ghouls are not humans or were humans but are only transformed ones. They have animal-like or child-like intelligence. These creatures feed on carcasses and dead things and, as such, they generally thrive in cemeteries or graves digging for the dead. Ghouls are created by black magic or possessed by some demon. Ghouls are attracted to the dead, but they may attack living beings. … ghouls are considered to have thinking power and can make decisions. Source

Continued in the next Part. More of what the accouterments represent!
---
If you go to the store to buy Meat, don't run to the Milk section or the Junk Food aisle looking for it!!
The Meat Section is the
True Gospel of Jesus Christ
.
The Milk Section is likened to those who will not preach on sin and
Hell
, just a feel good message, the Social gospel.
The Junk Food Isle is the outright false doctrine AKA the prosperity gospel, name it and claim it, the Hebraic Roots movement and other false teachings!!
Feasting on just Milk and Junk will eventually cause you great harm, you can count on it!!
---
If you appreciate what this Ministry is doing to Expose the Fake Christians, Satanists, Witches, Communist/Socialist Democrats, R.I.N.O Republicans and the assault on our Conservative, True Christian values,
please consider a small donation
to help us continue and expand. This Ministry is not only under attack by the Enemy, we are now under attack from supposed Christians also. It is what
Tom Horn calls 'Blood on the Altar"
!