He was obsessed with 'American Psycho,' police say, and stabbed his wife 123 times. See the previous article here. 
As I indicated in the previous article that something was not right about the story. I figured he was on a prescription drug that made him go crazy. It was not prescription but an over the counter mind altering drug, that teens use to get high!
Her husband's cold-medicine claims — he said he took "more medicine than I should have" just before going to bed — sparked a debate about the perceived dangers of medications like Coricidin, which is marketed as a line of cold and cough medicine for people with high blood pressure.

Bayer, the pharmaceutical company that makes Coricidin, told ABC News in a statement that it extended its "deepest sympathies" to the family.
Here is an ABC News snippet.
A group of kids who spoke to ABCNEWS said they were using Coricidin HBP Cough and Cold Pills to get stoned. The ingredient that gives kids a high is dextromethorphan, or DXM. It suppresses coughs safely, but in large amounts it produces a chemical imbalance in the brain that allows the kids to get high.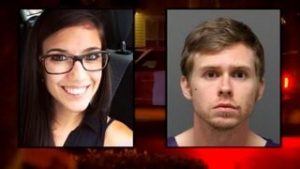 More important than the medication, we can glean from this article that he disregarded the Lord and Scripture as MOST Christian do. 1st Thessalonians 5:22 "Abstain from all appearance of evil."  
Excerpts Washington Post – Circumspect investigators probed his story — and the Bible college graduate's life — and learned troubling details that they say pointed to a unstable marriage and an obsession with killing.
"It was learned that Matthew Phelps was obsessed with the movie 'American Psycho' and this Instagram account shows numerous photographs of scenes from the movie and Phelps dressed as the main character," one detective wrote in court documents filed in Wake County and obtained by the (Raleigh) News & Observer.
"American Psycho" is a 2000 movie starring a pre-Batman Christian Bale as a wealthy New York investment banker named Patrick Bateman, who is also a serial killer. In the past 18 years, the film, full of gratuitous acts of violence and dark humor, has become a cult classic.
Phelps's secret Instagram, called marty_radical, is set to private. But its profile picture is a photo of a blood-spattered Bateman. According to "Inside Edition," one Instagram post quoted lyrics from the metal band Korn: "I can't get out of bed. There is an evil in my head."
Quoting dark lyrics and dressing as a serial killer don't necessarily mean that there is an intent to do harm, but investigators interviewed Phelps's friends, who told them that the Raleigh man had "expressed interest" in "what it would be like to kill someone." Source: Washington Post
Ahhhh there we have it. " quoted lyrics from the metal band Korn: "I can't get out of bed. There is an evil in my head.". Yes there IS an evil in his head and it is demon spirits that were INVITED IN by watching Horror Movies and listening to Satanic Music that glorifies murder! Korn is one of the worse death metal bands there is.
What in the Hell is a Christian, especially an person who is wanting to be a Pastor, doing watching and listening to Movies and Music inspired by the Devil!
1st Corinthians 2:14-16 "But the natural man receiveth not the things of the Spirit of God: for they are foolishness unto him: neither can he know them, because they are spiritually discerned.15 But he that is spiritual judgeth all things, yet he himself is judged of no man.16 For who hath known the mind of the Lord, that he may instruct him? But we have the mind of Christ."
He IS NOT a Christian and CAN'T DISCERN because the man is demon possessed plain and simple! As are many others like him!
---
If you go to the store to buy Meat, don't run to the Milk section or the Junk Food aisle looking for it!!
The Meat Section is the
True Gospel of Jesus Christ
.
The Milk Section is likened to those who will not preach on sin and
Hell
, just a feel good message, the Social gospel.
The Junk Food Isle is the outright false doctrine AKA the prosperity gospel, name it and claim it, the Hebraic Roots movement and other false teachings!!
Feasting on just Milk and Junk will eventually cause you great harm, you can count on it!!
---
If you appreciate what this Ministry is doing to Expose the Fake Christians, Satanists, Witches, Communist/Socialist Democrats, R.I.N.O Republicans and the assault on our Conservative, True Christian values,
please consider a small donation
to help us continue and expand. This Ministry is not only under attack by the Enemy, we are now under attack from supposed Christians also. It is what
Tom Horn calls 'Blood on the Altar"
!