My friend and Website editor Cynthia just sent this to me.
Jon, I was on Amazon looking for a gift to take to my grand-baby. Search was for "best gifts for 3 year old girl". This is what the search came up with!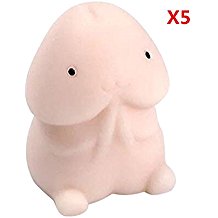 Auwer 5PCS Soft Cute Mochi Penis Squishy Slow Rising Jumbo Toys Squeeze Stretch Kawaii Relieve Stress Vent Toy Joke Gift
And the description on Amazon:
When you look at them, they're so cute that you may feel better, or even all your bad feelings will be gone.It can be a stress reliever.
It may look like plastic but no, it is actually squishy material. Take only one hand and give a big squeeze, you will be pleasantly surprised at how slow rising this squishy is!
It can also be a decoration in your car / house / show window / cafe.Lightweight and easy to carry, can play it anytime you want.
This Slow Rising Squishy Toy can be used as a stress relief toy, it can also be used as samples for display. It's durable and can used for a long time.
It is NOT edible. Please do NOT put into your mouth. NOT suitable for children under 3 years old.
What the hell is wrong with manufactures and companies these days?  So your child three and above can play with a toy penis because it is cute, can make them feel better and take away stress!
NO. You

are grooming and teaching the child to be a SEXUAL PERVERT!