See the Series Send in the Clowns that explains why these weirdo's do the things they do!
People dressed as clowns have been lurking in cinemas to see IT… and viewers are freaking out
The Juggalos don't want to be called a gang – so they marched on Washington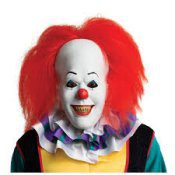 Excerpts: LA Times – A mass of people with red noses and faces covered in white paint descended Saturday on Washington. They hoisted signs declaring "Clown Lives Matter" and posters decorated with doctored images of President Trump.
Also highly visible were numerous images of a wild-haired man wielding a hatchet. One was plastered on an American flag.
No, this wasn't a scene out of "American Horror Story" or a gathering of fans of the hit film "It." The occasion was a march near the Lincoln Memorial as scores of fans of the Detroit-based rap group Insane Clown Posse known as Juggalos protested the FBI for labeling them as a gang.
The Juggalos — named after the 1992 song "The Juggla" — are the fiercely devoted fans of the rap duo and its brand of "horrorcore," a sub-genre of hip-hop punctuated by macabre themes.
Think Deadheads, Beliebers or Swifties, but far more rowdy.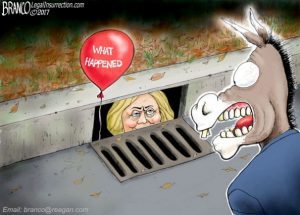 ICP, (Insane Clown Posse) as the group is commonly known, has sold about 7 million albums, and has had its name branded on items ranging from action figures to energy drinks. Since 2000, the group has anchored a raucous multi-day festival — the Gathering of the Juggalos — where revelry and unruliness are encouraged; the event even boasts its own drug bazaar called the Bridge. Fatal drug overdoses, fights and arrests have punctuated past festivals.
"Over the past five years, our legal team has heard testimonies and reports from Juggalos all over the nation who have lost custody of their children, been fired from jobs, denied access into the armed forces, and the most common consequence — being officially labeled as a gang member by law enforcement agencies for wearing Juggalo-related clothing or brandishing one or more Juggalo tattoos," ICP wrote in a statement on the march's site.
Wrote Wired senior writer Brian Raftery in a 2010 feature: "ICP's following is made up mostly of young white men from working-class backgrounds. They tend to feel that they've been misunderstood outsiders their whole lives, whether for being overweight, looking weird, being poor, or even for just liking ICP in the first place. For them, the Gathering is a place they can be accepted, a feeling reinforced by the constant chants of the Juggalo credo 'Fam-uh-LEE! Fam-uh-LEE!'"
"Most crimes committed by Juggalos are sporadic, disorganized, individualistic, and often involve simple assault, personal drug use and possession, petty theft, and vandalism," the report states. "However, open source reporting suggests that a small number of Juggalos are forming more organized subsets and engaging in more gang-like criminal activity, such as felony assaults, thefts, robberies, and drug sales. Social networking websites are a popular conveyance for Juggalo subculture to communicate and expand."
Two Maryland Juggalos in 2014 were charged with attempted murder for trying to carve and burn an ICP tattoo off their roommate's arm because they felt he was no longer loyal. Earlier this year, a Wisconsin Juggalo was sentenced to more than three years in prison for chopping off a woman's pinky finger with a machete — even attempting to cauterize the wound with a blowtorch when a car cigarette lighter failed to work — and drinking her blood to honor another Juggalo who had passed away. The plan was to eat the finger later.
Insane Clown Posse has furiously denounced the gang classification; the duo sued the Justice Department and FBI, in a suit that has been dismissed.
"The Juggalos are fighting for the basic American right to freely express who they are, to gather and share their appreciation of music, and to discuss issues that are important to them without fear of being unfairly targeted and harassed by police," Michael J. Steinberg, legal director of the Michigan chapter of the ACLU, said in a statement.
---
If you go to the store to buy Meat, don't run to the Milk section or the Junk Food aisle looking for it!!
The Meat Section is the
True Gospel of Jesus Christ
.
The Milk Section is likened to those who will not preach on sin and
Hell
, just a feel good message, the Social gospel.
The Junk Food Isle is the outright false doctrine AKA the prosperity gospel, name it and claim it, the Hebraic Roots movement and other false teachings!!
Feasting on just Milk and Junk will eventually cause you great harm, you can count on it!!
---
If you appreciate what this Ministry is doing to Expose the Fake Christians, Satanists, Witches, Communist/Socialist Democrats, R.I.N.O Republicans and the assault on our Conservative, True Christian values,
please consider a small donation
to help us continue and expand. This Ministry is not only under attack by the Enemy, we are now under attack from supposed Christians also. It is what
Tom Horn calls 'Blood on the Altar"
!