What Catholics do after Halloween
Movies, zombies, Halloween changing Mexico's Day of the Dead
John 1:5 "And the light shineth in darkness; and the darkness comprehended it not."
John 11:10 "But if a man walk in the night, he stumbleth, because there is no light in him."
2 Corinthians 5:8 "We are confident, I say, and willing rather to be absent from the body, and to be present with the Lord."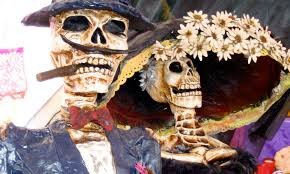 See also:
Santa Muerte -Holy Death.
Celebrating the Day of the Dead.
Day of the Dead & the Sugar Skull Tradition.
2nd Corinthians 6:14-15 "Be ye not unequally yoked together with unbelievers: for what fellowship hath righteousness with unrighteousness? and what communion hath light with darkness? 15 And what concord hath Christ with Belial? or what part hath he that believeth with an infidel?"
FoxNews MEXICO CITY October 29, 2016– Hollywood movies, zombie shows, Halloween and even politics are fast changing Mexico's Day of the Dead celebrations, which traditionally consisted of quiet family gatherings at the graves of their departed loved ones bringing them music, drink and conversation.
Mexico's capital held its first Day of the Dead parade Saturday, complete with floats, giant skeleton marionettes and more than 1,000 actors, dancers and acrobats in costumes.
Tens of thousands turned out to watch the procession, which included routines like a phalanx of Aztec warriors with large headdresses doing tricks on rollerblade skates.
"It would be hard to conserve these traditions without any changes," said Juan Robles, a 32-year-old carpenter who led the skating Aztecs. "This way, people can come and participate, the young and old."
Such a spectacle has never been a part of traditional Day of the Dead celebrations.
The idea for the parade was born out of the imagination of a scriptwriter for last year's James Bond movie "Spectre." In the film, whose opening scenes were shot in Mexico City, Bond chases a villain through crowds of revelers in what resembled a parade of people in skeleton outfits and floats.
It's a bit of a feedback loop: Just as Hollywood dreamed up a Mexican spectacle to open the film, once millions had seen the movie, Mexico had to dream up a celebration to match it.
"When this movie hit the big screen and was seen by millions and millions of people in 67 countries, that started to create expectations that we would have something," said Lourdes Berho, CEO of the government's Mexico Tourism Board. "We knew that this was going to generate a desire on the part of people here, among Mexicans and among tourists, to come and participate in a celebration, a big parade."
Mexico City authorities even promised that some of the props used in the movie would appear in the parade. The government board sponsoring the march called it part of "a new, multi-faceted campaign to bring tourists to Mexico during the annual Day of the Dead holiday."
Add to this the increasing popularity of "Zombie Walks" around the Day of the Dead, and the scads of Halloween witches, ghouls, ghosts and cobweb decorations sold in Mexico City street markets, and some see a fundamental change in the traditional Mexican holiday.
Johanna Angel, an arts and communication professor at Mexico's IberoAmerican University, said the influences flow both north and south. She noted U.S. Halloween celebrations now include more Mexican-inspired "candy skull" costumes and people dressed up as "Catrinas," modeled on a satirical 19th century Mexican engraving of a skeleton in a fancy dress and a big hat.
"I think there has been a change, influenced by Hollywood," Angel said. "The foreign imports are what most influence the ways we celebrate the Day of the Dead here."
Traditionally, on the Nov. 1-2 holiday, Mexicans set up altars with photographs of the dead and plates of their favorite foods in their homes. They gather at their loved ones' gravesides to drink, sing and talk to the dead.
In some towns, families leave a trail of orange marigold petals in a path to their doorway so the spirits of the dead can find their way home. Some light bonfires for the same purpose, sitting around the fire and warming themselves with cups of boiled-fruit punch to ward off the autumn chill.
These days, many cities set up huge, flower-strewn altars to the dead and hold public events like parades, mass bicycle events and fashion shows in which people dress up in "Catrina" disguises.
Some say the changes don't conflict with the roots of the holiday, which they say will continue.
Samuel Soriano, a 35-year-old insurance executive, decorates his Mexico City home Halloween-style (think giant spider webs and inflatable tombstones) and each year hands out candy to about 100 trick-or-treaters. But in his dining room, he has a more traditional "Dia de los Muertos" shrine with portraits of departed loved ones, candles, decorative skulls and marigolds.
"We decorate for the sheer pleasure of it, and to see the smiles on children's faces," Soriano said. "We also celebrate Day of the Dead … There's no reason to see it as a contradiction."
On a recent "Zombie Walk," in which hundreds paraded through Mexico City in corpse disguises one week before the Day of the Dead, most participants said it was just good, clean fun.
"We are not fighting against our cultural traditions," Jesus Rodriguez, one of the organizers, said as he waved a fake plastic arm he was "gnawing" on. "On the contrary, if you take off the zombie*s flesh, there are skeletons, there are Catrinas."
Yet Mexico's traditional view of the dead was never ghoulish or frightful. The dead were seen as the "dear departed," people who remained close even after death. Could the outside influences threaten that?
"I don't think that will change," Angel said. "I think Mexico maintains the sense of remembering the dead with closeness, not fright."
Indeed, Mexicans still enjoy the graveside celebrations. Some cemeteries grow so packed and rowdy that authorities have been forced to ban alcohol sales at nearby stores.
And Mexicans have changed the holiday themselves, without outside influences, making it a time to express social protest and social causes.
Many have erected public shrines for the nearly 30,000 disappeared in Mexico's drug war. In downtown Mexico City in recent years, prostitutes have put on skull masks and erected a shrine to murdered prostitutes.
Day of the Dead — itself an amalgam of Spanish and pre-Hispanic beliefs — seems likely to survive, despite the rapid changes, in a festival-loving country that has long managed to successfully absorb many outside influences.
"Any opportunity for a festival is welcome," Angel noted, "and with any influences from at home or abroad, and in all possible combinations."
As the arm-gnawing zombie Rodriguez put it, "We love these days, Day of the Dead, Halloween, and Zombies, that is the reason why this crowd is here year after year."
Continued in Part 10  What Witches do after Halloween
---
If you go to the store to buy Meat, don't run to the Milk section or the Junk Food aisle looking for it!!
The Meat Section is the
True Gospel of Jesus Christ
.
The Milk Section is likened to those who will not preach on sin and
Hell
, just a feel good message, the Social gospel.
The Junk Food Isle is the outright false doctrine AKA the prosperity gospel, name it and claim it, the Hebraic Roots movement and other false teachings!!
Feasting on just Milk and Junk will eventually cause you great harm, you can count on it!!
---
If you appreciate what this Ministry is doing to Expose the Fake Christians, Satanists, Witches, Communist/Socialist Democrats, R.I.N.O Republicans and the assault on our Conservative, True Christian values,
please consider a small donation
to help us continue and expand. This Ministry is not only under attack by the Enemy, we are now under attack from supposed Christians also. It is what
Tom Horn calls 'Blood on the Altar"
!