Is America Becoming a Pagan Kingdom?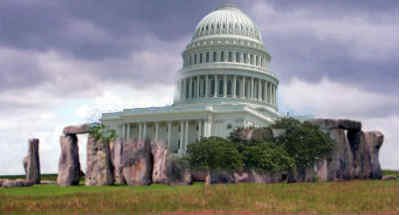 It must be some kind of joke to suggest the United States of America is turning resolutely towards paganism, the antithesis of Christianity—correct? Sadly, this is exactly what appears to be quickly happening to this most Christian of all nations in terms of origin and practice. We see this in our views of government, family, economics, freedom, law and especially religion. We are now presented with a kind modern homo paganus, a modernized version of ancient man. Paganism is defined as:
An adherent of a polytheistic religion in antiquity, especially when viewed in contrast to an adherent of a monotheistic religion.

A Neopagan.

Offensive—a. One who has no religion; b. An adherent of a religion other than Judaism, Christianity, or Islam.

A hedonist.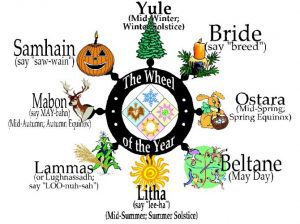 Paganism is a set of beliefs and practices essentially tied to the societies of the ancient world outside Judaism and Christianity. In particular, classical paganism was the worldview of the ancient Greeks and Romans. The revival of these ancient cultures during the Renaissance by way of the ancient writers is the foundation for Humanism. Despite the many high points of ancient classical paganism, these cultures' values were rejected by the Christian West as utterly at odds with the great standards created by the rise of Christian Europe. This article details how these standards, misunderstood and rejected, are being slowly lost and replaced by unenlightened instincts and more primitive beliefs.

I. The Drift of Modern American Public Policy & Societal Mores
When gay marriage bills pass for the first time in state ballots, it is obvious that a new day has dawned in America. As opposed to the mere evolution of ideas and habits which occurs in every culture, the transition in the US represents a sea-change in beliefs and practice. This change represents a fall back into paganism, which could be argued the default thoughts and ideals of unregenerate mankind. Further, one could directly state that there are two essential worldviews of mankind—the biblical versus pagan.
Paganism therefore rejects biblical revelation of the One God, and an objective definition of truth—replacing it with a regime of superstition, earth worship, polytheism, and radical humanism. The latter is the replacement of any traditional Western idea of religion with rank secularism, however that might attain. An example of the latter would be Marxism with its savage embargo of God, which replaced tradition with a comically inept reign of humanistic pseudo-science, totally rejecting constitutionalism, natural law, and human rights.
It is a fundamental conviction of modern mankind that human society is destined to evolve and that all evolution occurs to positive results. This notion is tied into the prevalent belief that humans evolved and therefore evolution is a fixed and positive reality of human life. Instead, this pernicious notion would be harmful, even if humans were products of Darwinian evolution—because it fatalistically blesses every change without bothering to analyze it. Certainly this is one of the causes of the continuing fall in human happiness in our increasingly confused and contradictory society. These reborn pagan practices all help guide our fall.
II. Ancient Roots of Modern Paganism
Foundation of the West's Argument Against Paganism
The chief and most devastating arguments against paganism were levied by Christian Roman emperors, and by the ancient Church Fathers. These can be boiled down to a few central principles. First, according to the emperors, paganism rejected God's rule over mankind. Likewise, according to the Patristic Fathers, essential truth can only be known via revelation—by divine gift to mankind, as opposed to the flawed results of humanistic philosophizing.
Second, since only God knows the truth, only He can deliver this through His Word. So to oppose this, whether by pagan or heretic means is one of the most grievous sins imaginable. The emperors, such as Constantine made proposing such pagan falsehoods against the law. Other emperors may have battled back against this mandate, such as Julian the Apostate, but the tide was clear and eventually the Roman Empire became officially Christianized.
The triumph of Christianity against paganism amongst the common people should be seen as the understandable acceptance of a theory of God which was not arbitrary, offering a description of life based upon hope over fear. Also, the Bible gained cachet by presenting a vision of life where all men and women, regardless of status, citizenship, free or slave, all stood on equal footing before God. This powerful idea was the opposite of Roman society. Sadly, rejecting this can only be seen as a lapse from faith back into the abyss of ignorance and certain failure.
III. Chief Doctrines of Reborn Paganism
A. Family
The modern family is in state of siege, on the verge of total destruction. In its place are various entities and unions, many fleeting in nature. Marriage itself as a sacred Christian union is a bygone concept. More interestingly, the very institutions which supported and fed into marriage by way of courtship and dating are today almost extinct. The practice of "hooking up," being a preliminary sexual exploration before any level of commitment—has inverted the paradigm. The upshot is the old cornerstone of "True Love" being a fixation on a marriage of incorporeal love and total dedication versus all others—essentially unknown in the ancient world—has disappeared. The ancient world with its commonplace prostitution and use of slaves as unfettered sex objects without any rights—regardless of age, gender and used in any manner has been replaced by promiscuity and pornography.
B. Gay Marriage
While gay "marriage" is seen nowhere in ancient history, the seeds of homosexual unions are firmly planted in classical paganism. First, the Greeks were open to the potential for men to have homosexual relations. For example, in one of the most notorious developments in history, homosexual pedophilia was highly developed in ancient Greece. This cult of pederasty was ostensibly used for instruction. Further, homosexual acts by adults were noted in culture and the arts.
Romans also tolerated homosexuality, yet with a twist. Officially, homosexual acts between Roman citizens merited the death penalty. Yet, any sex acts done with a slave, even children, were totally acceptable. This was because slaves were not technically persons under the law. Yet, no ancient society ever allowed homosexuals the right to marry. Further, the Christian theology placing Christ's relationship to the Church as an analogy to human marriage certainly meant that no straight reading of the Bible could ever condone such an idea. That America now legislates such actions is a powerful statement on our true pagan faith.
C. State Directed Religion
While the American Constitution famously defends the right for unfettered religious belief and expression, modern society is seriously pruning back free religious expression. What is taking its place is a kind of state-approved religious expression which focuses on certain pagan beliefs, such as the deification of nature, the planet (gaia) and the cosmos. Considered the most grievous crime against the modern mind is the prejudiced claim of an exclusive religion or God, especially one whom proscribes certain "sinful" behaviors. This rejection of the biblical code is an acceptance of the ancient pagan standards that tolerated any religion except an exclusive claim which rejected all others.
D. Command Economy
The ancient world had no comprehension of capitalism, its theories being outlined formally by Adam Smith in Wealth of Nations. But it is true that the elements of informal capitalism have existed from time immemorial without being codified. In the ancient world, land was often owned by the government—such as in Egypt. In Rome, the government contracted for "corn," or grain from which to feed the people. Often this was contracted in foreign climes like Africa. There was an artificial port named, appropriately enough, Portus built expressly in which to land craft laden with grain. The public policy of amassing grain for public use and setting its price, meant to ameliorate famine, was cura annonae, according to Tacitus. While inventive, the government's direct control of agriculture on such large scale would neither be efficient, nor sustainable. That America is now creating a command economy of health care is a dire sign for the end of the world's best private medical system.
E. Irrelevance of Private Morality Behind Public Success
In ancient Rome, citizens were not judged by their private lives as much by their achievement of success in two realms—military and politics. Wealth and great fame were also acknowledged. The concept of an admirable inner life was unknown to Romans, according to Florence Dupont in Daily Life in Ancient Rome, describing how Romans were not in the least introspective, but judged themselves exclusively by how others saw them. The goal in the Roman world was glory and a good name, achieved by battlefield bravery and political achievement in the senate and various magistracies.
What mattered in ancient Rome is similar to what is celebrated in modern America—military success, political achievement, overall renown, riches, and being part of a higher status family. But what used to be a fixation with Americans—being how people achieved success and what kind of person they were, how they treat friends, family, and strangers, let alone overall character—no longer matters.
F. Anti-Science
Scientific undertakings in America have become overly politicized and ends-directed until the outcomes of "independent" studies and experiments are now often wholly predictable and fixed. This is much like how ancient Rome used its collegia of priestly groups. For example, when the Romans had a monstra appear, being some kind of natural anomaly, like the birth of a two-headed calf, the senate investigated this by way of their priests. They might ask the Haruspices to investigate the nature of these phenomenon, who would do so by opening an animal and reading its liver. These would then report back to the senate their findings, but it would be up to the senate to decide what it all meant. So pagan politics dominated every other concern, just like today.
F. Nature Worship
One sees a decided development of worship of nature in the modern cult of Gaia, which portrays the earth as a kind of god. Such sentiments are not foreign to ancient societies, which often associated religion with such items as trees, aka sacred groves. For instance, one writer describes Earth First!
Some of today's environmental movement is clearly a revival of ancient pagan nature worship, exemplified in this video of Earth First members crying out, speaking not only of but to trees, and referring to the forest as a "tabernacle."
This attitude is plainly seen in the following passages from Ancient Pagan and Modern Christian Symbolism With an Essay on Baal Worship, On The Assyrian Sacred "Grove":
There is a word of the feminine gender occurring in the Hebrew twenty-four times, viz., Asherah or Asharah; plural, Asharth translated in the Septuagint and Latin vulgate, a tree, or "grove," in which they have been followed by most modern versions, including the English. This supplies the void, for Asharah may be regarded as another name for the goddess Ashtoreth. What, then, was the Asharah? It was of wood, and of large size; the Jews were ordered to cut it down.
G. One-World Religious System
The dream of a one-world pagan religious system symbolized by the European godhead excepted Judaism and Christianity is alive today. The ancient religious system of Rome and Greece had analogs across the globe in various cultures, whether in Europe, the Indian subcontinent, or various other places. This world system is back via commands against exclusivity, or prohibitions against what were once considered sins. Defy this movement and risk jails or fines, just as ancient Roman authorities attempted to stamp out and kill Christianity for rejecting the state pantheon.
H. World Religion Polytheism Versus Monotheism
One of the great battles between ancient paganism and Christianity was the debate over whether a single, versus multiple deities existed. For example, one of the main reasons Christianity was sanctioned so harshly by the Romans was their insistence that God was of one nature. This disagreed with the state religious system which was pluralistic and committed to bringing in any non-novel foreign deities, already established elsewhere. Interestingly, the most important public policy in ancient Rome was Pax Deorum, or the Peace of the Gods—which directed the leaders to do anything humanly possible to avoid upsetting the gods so as to avoid human tragedy.
This battle was decisively settled when Constantine declared Christianity the state religion. After this such leaders as Emperor Theodosius declared pagan worship a capital offense, with offenders possibly executed. Yet, today in America the Christian church is reeling as multiple cases come down against Believers and church expressions of faith. Any statements seen as exclusive of any other religious traditions, including atheism are harshly put down as non-inclusive. So paganism has returned to America.
I. World Government & Tower of Babel
A fixation on a one-world government which would create a single law applied around the globe by a world court system, also delivering taxation and management of resouces and assets is not a new idea but ancient. The Tower of Babel in Genesis was an example of such an attempt to create a one-world society. This was rejected by Yahweh who caused languages to be multiplied to foment confusion to end the project. Therefore, a commitment to world government cannot be claimed biblical or modern, but merely pagan.
J. Education Goals
While the classical Triumvirate was developed by pagan thinkers, the average Roman did not have access to such first-class education. The vast majority of Romans were plebeians, the poorer class. Only upper class males were trained, with some notable middle class children such as Cicero who were able to advance beyond their class via hard work and genius.
The original American education czar, John Dewey, was certainly a progressive, and many feel a Marxist. His goal was to train children through experience, not via rote memory or immersion in classical texts as was the original American pedagogy. It is because of Dewey's ideas that American education became a study in advanced mediocrity, turning out generations of students simply not equipped to debate, analyze arguments, or study texts with any precision. In other words, perfect pawns for the state, representing the ancient Roman description of a few elites directing the masses. Writes one educator,
A detailed examination of Dewey's relationship to Marxism can explain a great deal about the form and content of modern schools. Dewey found Marxism useful, if not indispensable, in the formulation of his educational theories…
K. Belief in Universal Law
It is part of leftist modern political theory that there must be a body of world legislators and courts to standardize a global law, which presumes a viable world body of law fully applicable in any scenario or setting. This idea was in fact first declared by the ancient Roman Stoics who declared a law which applied universally, such as demanded now with the United Nations.
Yet the greatest theory of law in modern history, Anglo-American common law, is decidedly not a claim of universal jurisprudence but a regional canon based upon Natural Law & Rights. It proved so powerful its Constitution and Bill of Rights became the model for all universal rights theorists. Yet the problem with universal law regimes is that should they become corrupt, the entire world would become infected and tyrannical, without any potential respite except for armed insurrection.
L. Afterlife
The idea of a heaven and hell were not originally in the minds of the earliest Romans. Instead, a life inside the grave was imagined, explaining inclusion of various everyday implements, according to Numa Denis Fustel De Coulanges in The Ancient City. Instead, it was thought corpses still had some level of awareness in the grave. Only later was it conceived that underground spirits joined in a giant cavern where they resided together. But there was no belief that good people went to a heaven, whereas as the evil went to hell.
In modern America, belief in a Christian heaven and hell is increasingly unpopular with many believing just in heaven, whereas many others believe the "soul" is annihilated after death. This is no coincidence, but in an increasingly perverse and irreligious populace where many cling only to the barest outlines of Christianity, it is certain that those who abandon traditional morality also abandon orthodox theology on the afterlife.
M. Property Rights
One of the current fascinations in American society is the idea of wealth redistribution. This well-suits the welfare of ancient Rome and its grain dole. Further, despite the idea of private property, there was no well-established right of such. This is because the city, the most common authority in antiquity, was seen as representing the group, and no individual rights theory existed at this time. Therefore, the city could confiscate private property if it saw need to.
The medieval debate over private property between the Franciscans and the Pope was used by William of Ockham to argue that individuals had a non-negotiable right to property ownership. This became a foundational Natural Law and Rights argument. John Locke famously argued for a complete defense of private property, which along with the rule of law, made America's prosperity possible. Yet, now we are on the verge of giving up even this fundamental right which will almost certainly lead to America collapsing economically.
Kelly O'Connell hosts American Anthem on CFP Radio Sundays at 4 pm (EST).
Kelly O'Connell is an author and attorney. He was born on the West Coast, raised in Las Vegas, and matriculated from the University of Oregon. After laboring for the Reformed Church in Galway, Ireland, he returned to America and attended law school in Virginia, where he earned a JD and a Master's degree in Government. He spent a stint working as a researcher and writer of academic articles at a Miami law school, focusing on ancient law and society. He has also been employed as a university Speech & Debate professor. He then returned West and worked as an assistant district attorney. Kelly is now is a private practitioner with a small law practice in New Mexico. Kelly is now host of a daily, Monday to Friday talk show at AM KOBE called AM Las Cruces w/Kelly O'Connell
Kelly can be reached at: hibernian1@gmail.com
---
If you go to the store to buy Meat, don't run to the Milk section or the Junk Food aisle looking for it!!
The Meat Section is the
True Gospel of Jesus Christ
.
The Milk Section is likened to those who will not preach on sin and
Hell
, just a feel good message, the Social gospel.
The Junk Food Isle is the outright false doctrine AKA the prosperity gospel, name it and claim it, the Hebraic Roots movement and other false teachings!!
Feasting on just Milk and Junk will eventually cause you great harm, you can count on it!!
---
If you appreciate what this Ministry is doing to Expose the Fake Christians, Satanists, Witches, Communist/Socialist Democrats, R.I.N.O Republicans and the assault on our Conservative, True Christian values,
please consider a small donation
to help us continue and expand. This Ministry is not only under attack by the Enemy, we are now under attack from supposed Christians also. It is what
Tom Horn calls 'Blood on the Altar"
!