Exodus 20:4-5 "Thou shalt have no other gods before me. 4 Thou shalt not make unto thee any graven image, or any likeness of any thing that is in heaven above, or that is in the earth beneath, or that is in the water under the earth: 5 Thou shalt not bow down thyself to them, nor serve them: for I the LORD thy God am a jealous God, visiting the iniquity of the fathers upon the children unto the third and fourth generation of them that hate me;"
This is why India and other places that erect Idols and worship false gods are dung-holes and are in Famine and Poverty! 
A three-eyed cow born in India has been dubbed a "divine miracle" and a reincarnation of Hindu god, Shiva, with a veterinary doctor saying it is not Viswanatha but an abnormal embryo development.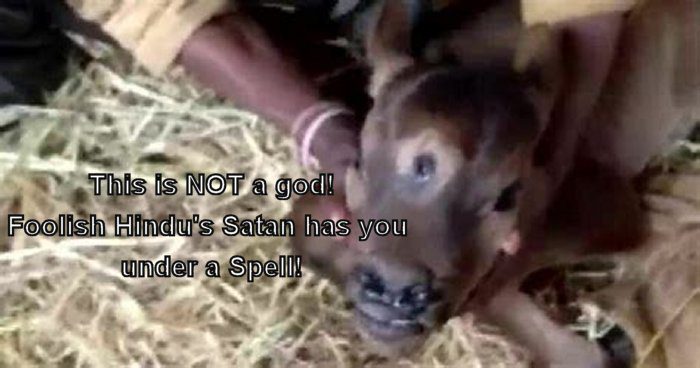 No, this is NOT the reincarnated false god Shiva, or any other god for that matter. It is a result of fallen man messing with The True God has created. Man will always screw up and contaminate what God has made!!
A three-eyed cow born in India has been dubbed a "divine miracle" when it was claimed to be a reincarnation of Hindu God, Shiva.

The rare calf was born with an extra eye on its forehead and four nostrils, sparking a frenzy with locals.

Some residents of the village of Chhattisgarh in the Rajnandgaon District in India claim the three-eyed calf is a reincarnation of Viswanatha, a God known for having an eye on their forehead.

A large number of people flocked from nearby villages to worship the cow, believing it to be the re-birth of Shiva, Sputnik reported.

While the birth of the animal, which was born with three eyes and four nostrils, was linked with the Hindu God, a veterinary doctor has disagreed with the comparison. 

The calf, born on January 14, attracted large crowds of people who offered incense sticks, coconuts, and money as per the custom of the local culture.

Some say the timing of the calf's birth, which was born just as the Hindu festival of harvesting, Makar Sankranti, started, is no coincidence.

The bovine's birth lent itself to locals who believe the arrival of the calf to be of religious significance.

Speaking to Indian news agency ANI, villager Neelkumar Verma said: "I have never seen any three-eyed being. Only Lord Shiva had it. It is a divine miracle. An incarnation of the Lord himself." Read more here
Ignorant Hindu…, break out of the spell that Satan has blinded you with and STOP worshiping false gods. You will end up in HELL with them!
---
If you go to the store to buy Meat, don't run to the Milk section or the Junk Food aisle looking for it!!
The Meat Section is the
True Gospel of Jesus Christ
.
The Milk Section is likened to those who will not preach on sin and
Hell
, just a feel good message, the Social gospel.
The Junk Food Isle is the outright false doctrine AKA the prosperity gospel, name it and claim it, the Hebraic Roots movement and other false teachings!!
Feasting on just Milk and Junk will eventually cause you great harm, you can count on it!!
---
If you appreciate what this Ministry is doing to Expose the Fake Christians, Satanists, Witches, Communist/Socialist Democrats, R.I.N.O Republicans and the assault on our Conservative, True Christian values,
please consider a small donation
to help us continue and expand. This Ministry is not only under attack by the Enemy, we are now under attack from supposed Christians also. It is what
Tom Horn calls 'Blood on the Altar"
!