What the Killers below have in common is one or more of the following.
It is my opinion that these people were completely and totally Demon possessed.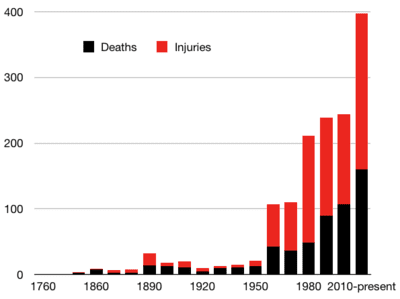 School and Church Shootings in America
This list compiled from various news sites
February 14, 2018: Marjory Stoneman Douglas High school shootings – (17 dead)
November 14, 2017:  Rancho Tehama Reserve shootings – (6 dead)
Nov 5, 2017: Mass shooting First Baptist Church in Sutherland Springs TX  (26 dead)
September 24, 2017: Murder and Mayhem in a Church in Antioch, Tennessee
October 24, 2015 – Marysville Pilchuck High School shooting – (5 dead)
October 1, 2015:  Umpqua Community College shooting – (10 dead)
June 17, 2015: Dylann Roof Murdered 9 people at Emanuel African Methodist Episcopal Church
June 7, 2013 – Santa Monica shooting – (6 dead)
Dec. 14 2012 Newtown, Connecticut Adam Lanza, 20 shot and killed his mother, then drove to the school where she reportedly taught and went on a shooting rampage Friday morning, killing 26 people, including 20 children, before turning a gun on himself.
April 2, 2012 – Oikos University shooting – (7 deaths)
Feb. 27 2012 , T.J. Lane, 18, allegedly entered Chardon High School in Ohio with a .22 caliber handgun and a knife. He shot four students in the cafeteria and one in the hallway before walking out, leaving three dead. Police detained him within a mile of the school.
April 16, 2007, Virginia Tech senior Seung-Hui Cho unleashed a rampage on the college campus, shooting and killing 32 students, and wounding 17 more people. More than a year before the massacre, in December 2005, a district court in Montgomery County, Va., deemed Cho "mentally ill" and "an imminent danger to self and others."
Oct.2, 2006, a gunman took about a dozen girls hostage, killing at least three of them, at a one-room Amish schoolhouse in Pennsylvania's Lancaster County, police said. The shooter was among the dead when police arrived.
March 21, 2005, 16-year-old Jeff Weise shot and killed five classmates, a teacher and an unarmed guard at a high school on the Red Lake Indian Reservation in Minnesota, where about 5,000 Native Americans live, before taking his own life. Weise had killed his grandfather and his grandfather's companion before heading to school that day.
April 20, 1999 Columbine High School. Gunmen Eric Harris, 18, and Dylan Klebold, 17, walked into their school and opened fire, killing 12 of their classmates and a teacher, and injuring 21 more, before turning their firearms on themselves.
May 21, 1998, 15-year-old Kip Kinkel opened fire at a Thurtson High School in Springfield, Ore., after killing his parents. Kinkel was sentenced to nearly 112 years in prison. See Kids that Kill
March 24, 1998, two boys, ages 11 and 13, fired on their Jonesboro, Ark., middle school from nearby woods after pulling the fire alarm, killing four girls and a teacher, and wounding 10 others. Both boys were later convicted of murder and were incarcerated until they turned 21.
Dec. 1, 1997, three students were killed and five wounded at Heath High School in West Paducah, Ky. Michael Carneal, 14, and a freshman, later pleaded guilty but mentally ill to murder charges and is serving life in prison. He is eligible for parole in 2023.
May 4, 1970, Kent State University in Ohio. Ohio National Guard troops opened fire to quell an anti-Vietnam War demonstration, killing four students and wounding nine others. The shooting became known as the May 4 Massacre
Other Killings In America and around the World. Its not just here in the USA.
June 12, 2016: Orlando nightclub shooting
Dec.14 2012: A man stabbed 22 primary school students in a knife attack in China on Friday, officials said, the latest in a series of assaults. Twenty-two elementary school students were stabbed. Link
Aug. 5, 2012: Army veteran Wade Michael Page kills five men and one woman and wounds three other people, including a police officer, before taking his own life at the Sikh Temple of Wisconsin outside Milwaukee.
July 20, 2012: Twelve people are killed when a gunman enters an Aurora, Colo., movie theater, releases a canister of gas and then opens fire during opening night of the Batman movie "The Dark Knight Rises." James Holmes, a 24-year-old former graduate student at the University of Colorado, has been charged in the deaths.
March 11, 2012: Sixteen Afghan villagers, including nine children, are killed during a predawn attack in which Army prosecutors have charged Staff Sgt. Robert Bales, 39.
July 22, 2011: Confessed mass killer Anders Behring Breivik kills 77 in Norway in twin attacks: a bombing in downtown Oslo and a shooting massacre at a youth camp outside the capital. The self-styled anti-Muslim militant admitted both attacks.
Jan. 8, 2011: A gunman kills six people and wounds 13 others, including then-U.S. Rep. Gabrielle Giffords, in a shooting spree outside a grocery store in Tucson, Ariz. Doctors say Jared Lee Loughner, who has been charged in the deaths, suffers from schizophrenia.
Nov. 5, 2009: Thirteen soldiers and civilians were killed and more than two dozen wounded when a gunman walked into the Soldier Readiness Processing Center at Fort Hood, Texas, and opened fire. Army psychiatrist Maj. Nidal Hasan is charged with 13 counts of premeditated murder and 32 counts of attempted premeditated murder.
April 30, 2009: Farda Gadyrov, 29, enters the prestigious Azerbaijan State Oil Academy in the capital, Baku, armed with an automatic pistol and clips. He kills 12 people before killing himself as police close in.
March 10, 2009: Michael McLendon, 28, killed 10 people — including his mother, four other relatives, and the wife and child of a local sheriff's deputy — across two rural Alabama counties. He then killed himself.
Sept. 23, 2008: Matti Saari, 22, walks into a vocational college in Kauhajoki, Finland, and opens fire, killing 10 people and burning their bodies with firebombs before shooting himself fatally in the head.
Nov. 7, 2007: After revealing plans for his attack in YouTube postings, 18-year-old Pekka-Eric Auvinen fires kills eight people at his high school in Tuusula, Finland.
April 26, 2002: Robert Steinhaeuser, 19, who had been expelled from school in Erfurt, Germany, kills 13 teachers, two former classmates and policeman, before committing suicide.
April 28, 1996: Martin Bryant, 29, bursts into cafeteria in seaside resort of Port Arthur in Tasmania, Australia, shooting 20 people to death. Driving away, he kills 15 others. He was captured and imprisoned.
March 13, 1996: Thomas Hamilton, 43, kills 16 kindergarten children and their teacher in elementary school in Dunblane, Scotland, and then kills himself.
Oct. 16, 1991: A deadly shooting rampage took place in Killeen, Texas, as George Hennard opened fire at a Luby's Cafeteria, killing 23 people before taking his own life. 20 others were wounded in the attack.
June 18, 1990: James Edward Pough shoots people at random in a General Motors Acceptance Corp. office in Jacksonville, Fla., killing 10 and wounding four, before killing himself.
Dec. 6, 1989: Marc Lepine, 25, bursts into Montreal's Ecole Polytechnique college, shooting at women he encounters, killing nine and then himself.
Aug. 19, 1987: Michael Ryan, 27, kills 16 people in small market town of Hungerford, England, and then shoots himself dead after being cornered by police.
July 12, 1976: Edward Charles Allaway, a custodian in the library of California State University, Fullerton, fatally shot seven fellow employees and wounded two others.
Aug. 20, 1986: Pat Sherrill, 44, a postal worker who was about to be fired, shoots 14 people at a post office in Edmond, Okla. He then kills himself.
July 18, 1984: James Oliver Huberty, an out-of-work security guard, kills 21 people in a McDonald's restaurant in San Ysidro, Calif. A police sharpshooter kills Huberty.
Aug. 1, 1966: Charles Whitman opened fire from the clock tower at the University of Texas at Austin, killing 16 people and wounding 31.
---
If you go to the store to buy Meat, don't run to the Milk section or the Junk Food aisle looking for it!!
The Meat Section is the
True Gospel of Jesus Christ
.
The Milk Section is likened to those who will not preach on sin and
Hell
, just a feel good message, the Social gospel.
The Junk Food Isle is the outright false doctrine AKA the prosperity gospel, name it and claim it, the Hebraic Roots movement and other false teachings!!
Feasting on just Milk and Junk will eventually cause you great harm, you can count on it!!
---
If you appreciate what this Ministry is doing to Expose the Fake Christians, Satanists, Witches, Communist/Socialist Democrats, R.I.N.O Republicans and the assault on our Conservative, True Christian values,
please consider a small donation
to help us continue and expand. This Ministry is not only under attack by the Enemy, we are now under attack from supposed Christians also. It is what
Tom Horn calls 'Blood on the Altar"
!