Superheros in comics and cartoons have come out queer in the last couple years so it is no surprise to see them come out on the movie screen.
Manufactures, Retailers and food icons have also come out queer. We have gone the way of Sodom and Gomorrah and the next step is destruction! Christian, stay close to the Lord because the rain falls on the just as well as the unjust! Matthew 5:45 "That ye may be the children of your Father which is in heaven: for he maketh his sun to rise on the evil and on the good, and sendeth rain on the just and on the unjust."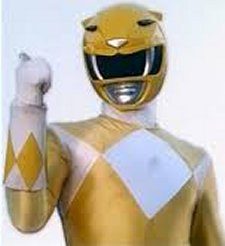 Excerpts from The Guardian: Power Rangers is set to become the first major superhero film to feature an out gay protagonist.
Early reviews of the film, the character of Trini the Yellow Ranger is revealed in one scene to be having "girlfriend problems", a moment that the film's director has described as "pivotal" in the film.
"For Trini, really she's questioning a lot about who she is," Power Rangers director Dean Israelite told the Hollywood Reporter. "She hasn't fully figured it out yet. I think what's great about that scene and what that scene propels for the rest of the movie is, 'That's OK.' The movie is saying, 'That's OK,' and all of the kids have to own who they are and find their tribe."
LGBT superheroes have been a mainstay in comic books in recent years, with Wonder Woman, Batwoman and Iceman each appearing as gay or bisexual at some point during their runs. But depictions of LGBT superheroes have been largely absent from film. Marvel's antihero Deadpool, who identifies as pansexual, was one recent prominent big-screen exception – although he wasn't shown having a non-heterosexual experience in the film.
The news about the Yellow Ranger comes shortly after Disney revealed that the character of LeFou in the live-action version of Beauty and the Beast is gay. The "exclusively gay moment", as Beauty and the Beast director Bill Condon described it, received much attention in the build-up to the film's release. Russian cinemas handed it an adults-only rating, and censors in Malaysia requested the scene be cut. Disney has refused to remove the scene and postponed the film's Malaysian release date. The controversy has done little harm to Beauty and the Beast's standing at the box office, where it enjoyed a record-breaking weekend across the globe. Source here.