And people hold Michael Obama in high regard and think she has Class? What was that saying she coined during the 2016 Election? When they Go High, We Go Low?
How much lower can you go then to promote and support deviates such as this? It's one step above doing it yourself and that is the platform of the DNC!

"Of course, to 'normalize' this abnormality is what this is all about,"  "Gettin' 'em while they're young—when their emotions are being shaped—is remarkably effective.
This is what comes out of that Hell hole known as California! It is also what the Pedophiles say and do. See this Documentary about the Pedophile perverts in Hellywood

Demon Possessed Xochi Mochi reads to Children for LGBTQ History Month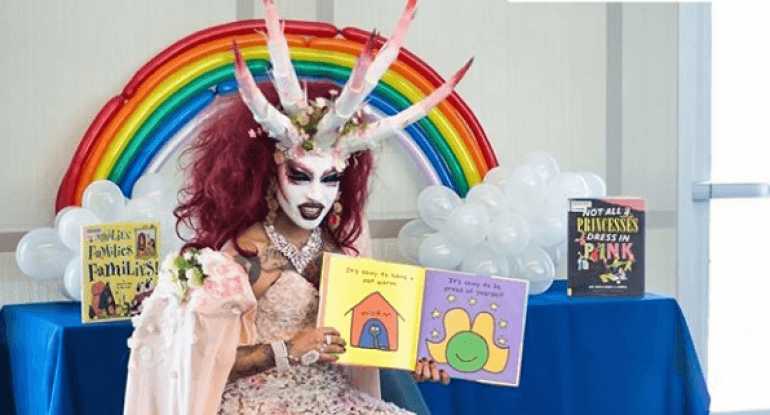 Excerpts Christian News -Concerns are being raised after a drag queen dressed as a "Killer Klown from Outer Space" recently read to children at the Michelle Obama Neighborhood Library for "LGBTQ History Month."
"I got to read to the children today and it was one of the best experiences I've been given as a drag queen," wrote the entity who goes by the name Xochi Mochi following the event on Oct. 14. "It's so important to have representation and normalize all the letters in LGBTQIA+ in everyday lives."
Mochi, who also calls himself "dragula," "super monster," "sextraterrestrial" and "gaylien," donned five long horns that protruded out of the top of his head, with white facial paint accented by dark makeup. Some found the persona to be demonic.
"Demonic teachings alive in Long Beach. I'm outraged they would allow this," tweeted California congressional candidate Omar Navarro.
One of the many dark and Halloween-like photos on Mochi's Instagram shows him wearing black lipstick and fang-like teeth, while standing next to his significant other, who is likewise painted up to look like a ghoul.
"I love my #SisterWife #LesbianLover #BestFriend and #SuperMonster @frankie_doom #MonsterCrushEveryDay," Mochi wrote, also simply posting the word " Hell" as the main caption.
Another photo shows Mochi dressed in a red and black skirt and top, with a caption noting that he was dressing up for a "Demon Lolita" party. "Of course I had to be momma Satan!" he exclaimed.
Noting Mochi's own words that he wanted homosexuality and transgenderism to be "normalized," Selwyn Luke, writing for the New American, expressed concern that children were being exposed to "corruptive arts" at such a young age.
"Of course, to 'normalize' this abnormality is what this is all about," he stated. "Gettin' 'em while they're young—when their emotions are being shaped—is remarkably effective. It's why we have sayings such as 'Give me a child until he is seven, and I will give you the man' and Alexander Pope's formulation, 'As the twig is bent, so grows the tree.'" Read the entire article here.
Alicia Powe writing for World Net Daily points out:
"The city of Long Beach, which is located in the district of Rep. Maxine Waters, D-Calif., also promoted the event, using a graphic that is clearly targeted toward young children."
Karl Payne, author of "Spiritual Warfare: Christians, Demonization and Deliverance," told WND the entertainment industry is largely to blame for a clear rise in demand for exorcisms.
Hollywood and the media, he said, are programming the public to not only become more secular, but they are desensitizing society to evil.
"All you have to do is turn on your television or head over to the movies, and you are going to see something in your home or something on the big screen that glorifies the occult, glorifies Spiritism, glorifies demonism," said Payne, who is also pastor of Leadership Development and Christian Education at Antioch Bible Church and the former chaplain of the NFL's Seattle Seahawks.
He continued: "If you have more and more people who are watching programming on demonism, on Spiritism, on occultism, on Satanism, you are going to have growing number of people who get scared.
"The Bible, in particular the New Testament, is not bashful about the reality of the devil and demons. They do not talk about them metaphorically or allegorically. They very clearly say they were real. They spoke, and they controlled people."
Read the entire WND article here
---
If you go to the store to buy Meat, don't run to the Milk section or the Junk Food aisle looking for it!!
The Meat Section is the
True Gospel of Jesus Christ
.
The Milk Section is likened to those who will not preach on sin and
Hell
, just a feel good message, the Social gospel.
The Junk Food Isle is the outright false doctrine AKA the prosperity gospel, name it and claim it, the Hebraic Roots movement and other false teachings!!
Feasting on just Milk and Junk will eventually cause you great harm, you can count on it!!
---
If you appreciate what this Ministry is doing to Expose the Fake Christians, Satanists, Witches, Communist/Socialist Democrats, R.I.N.O Republicans and the assault on our Conservative, True Christian values,
please consider a small donation
to help us continue and expand. This Ministry is not only under attack by the Enemy, we are now under attack from supposed Christians also. It is what
Tom Horn calls 'Blood on the Altar"
!