Oprah Winfrey says There's only one thing that could make her run for president in 2020.
Proverbs 9:13 "A foolish woman is clamorous: she is simple, and knoweth nothing."
"I want all the girls watching here now to know that a new day is on the horizon!" Oprah Winfrey declared at the Golden Globes on Sunday night. She was accepting the Cecil B. DeMille award for career achievement and taking the opportunity to speak out against sexual assault in America. But to many viewers, it looked as though she was also in the process of launching a bid for the White House, and this speech was her "it's morning again in America" moment. Source:  Oprah 2020, explained
And so the deceptive dance begins, as the World is manipulated into receiving their Goddess/Queen as the next ruler of the "free" world. She has been uniquely groomed and positioned to usher in the ONE WORLD RELIGION, necessary for the formation of a cohesive ONE WORLD GOVERNMENT.
"By any measure, Oprah Winfrey is one of the most successful women in America. Her net worth is now thought to exceed one billion dollars. She regularly appears at the top of the 'Most Admired Women' listings and has become a cultural icon, complete with her own magazine, network and product lines. .."
Source: Christian headlines
Reagan, Trump, and Oprah: why America loves the dream of a celebrity president
"Celebrities are avatars of America's subconscious. They are the people onto whom we project all our deepest fears and fantasies.

So when we fantasize about electing a celebrity as president, we're not imagining that Oprah is secretly a brilliant legislator or that the Rock has hidden depths as a policy wonk. We're imagining that the perfect, untouchable, and morally righteous figure of our dreams can stride straight off the screen into the White House and make everything better.

Oprah's star image is based on empathy, wisdom, and success — qualities in demand from a large swath of the electorate she's a nonthreatening, endlessly positive mother figure. She loves you no matter what. She is wise and positive and understanding. When she talks to her audience onscreen, you feel like she's talking just to you.

Director Ava DuVernay has called Oprah "the all–knowing, wisest lady in the universe." Oprah is "the best woman alive," the Miami New Times once declared. "Oprah has a unique way of connecting with people," says Forbes.

"She understands how to connect with audiences and give them what they want at a particular time," Janice Peck, author of The Age of Oprah, told me. "She's always been very smart at figuring at who her audience is and how to resonate with them."

"She's identified as this warm, caring, super successful, and absolutely non-controversial figure," Peck explained. "There's this sense that Oprah would be good at being president because she's so good at all this other stuff. She has an ability to connect with an audience."

The fantasy of President Oprah, then, is not a fantasy that supposes that Oprah Winfrey, billionaire businesswoman and media icon, is also secretly a political genius.

"It's a fantasy that a figure of non-controversial warmth, wisdom, and empathy; of post-racial unity and post- feminist idealism; of the beloved Obama era — that this figure could take control of the country, affect change, and fix everything." Source: Vox
Her god Lucifer has blessed her and may be grooming this Jezebel to rise just as the Race Wars begin!
Amid calls for her to consider a run for the White House — from fans as well as her closest friends — "I went into prayer," she tells PEOPLE in the magazine's new cover story. " 'God, if you think I'm supposed to run, you gotta tell me, and it has to be so clear that not even I can miss it.' And I haven't gotten that."
And she NEVER WILL.… at least from the True God. She DOSE NOT hear from the True God of the Bible, or Jesus Christ, or the Holy Spirit! Oprah is a New Age Witch that believes in Universalism. Meaning that All PATHS lead to god and heaven! Her god is LUCIFER as he is the author of universalism and her beliefs!
This next statement is a dozy since she is a LESBIAN. Stedman is just a prop to make her look normal

Lesbian flings, prostitution & abuse lies: Oprah's 'hidden' life
Winfrey also says she had no regrets about not raising children with longtime partner Stedman Graham, saying instead that the South African girls she helps through her Oprah Winfrey Leadership Academy for Girls have been "enough."

"It was just the right combination of mentor, mother, leader, guide. Just to see all of them blossom into these flourishing human beings," Winfrey says. "They delight me. Make me laugh a lot. They have surprised me in ways that have brought wonder and great joy."
Yea The same girls she had vaccinated, STERILIZED and let them be raped and abused! Oprah Winfrey met in secret with George Soros and other billionaires to discuss a plan to depopulate the world.

In this video Gavin McInnes and Alex Jones discuss the secrets of Oprah

Part of the secret to her enduring appeal, (according to Author Janice Peck), is her ability to keep white women — her biggest demographic — from thinking of her as black. " "She's in favor of racial opportunity and fairness," Peck said, "but she also has taken a lot of opportunities in her past to distance herself from the so-called black underclass, from those she considers to be angry black people." Source: Vox
Oprah accused a Store Clerk in Switzerland of Racism in 2013
Problem is….., it was an outright lie to gain attention for a new movie
[…] Winfrey also found herself in hot water in 2013 when, without any proof, she appeared to manufacture a racial controversy in order to promote her latest movie, Lee Daniels's The Butler. Appearing on Entertainment Tonight, Winfrey accused a Swiss shopgirl of racism.

"I say to the woman, 'Excuse me, may I see that [$38,000 purse] right above your head?' And she says to me, 'No, it's too expensive.' … She refused to get it," Winfrey dramatically explained.

But Winfrey refused to back up her story by identifying the store or the "racist" clerk. Eventually, though, the store and the shopgirl were located, and the young woman accused of racism by the most powerful woman in the world, openly declared Winfrey a liar:

I didn't hurt anyone. I don't know why someone as great as her must cannibalize me on TV. … If it had all taken place as she claimed, why has she not complained the next day at the wedding of Tina Turner with Trudie Goetz, my boss? She was there also at the Turner wedding as a guest. I don't understand it. … I spoke to Oprah Winfrey in English. My English is OK but not excellent, unfortunately. … I didn't know who she was when she came into the store. That wouldn't have made any difference if I had.

And what was Winfrey's bizarre response to this hideous "racist" adding insult to injury by declaring her a liar? Outrage? Fury? Nope. Winfrey backed off with a non-apology apology about being "sorry" that the incident "got blown up."

Well, it was Winfrey who blew it up, not only on Entertainment Tonight but on Larry King's CNN show.

A billionaire mogul falsely accusing an innocent sales clerk of racism is about as grotesque an abuse of power as anyone has ever seen, and that is what many believe happened. Excerpted from a Breitbart article.
Interesting tid-bits revealed in Good Morning America Interview
CBS This Morning co-host Gayle King on Tuesday urged her best friend Oprah Winfrey to run against Donald Trump in 2020. King even absurdly insisted she could stay on at CBS and cover the race "impartially." The co-host, it turns out, has been lobbying her friend to run for months. On the show, King pleaded, "But I also think you have a unique ability in terms of healing and connecting all people."

King even cited the late poet Maya Angelou, pleading to Winfrey: "What do you think Maya would say? It's one of these times I wish Maya was here. What do you think that she would say?" Source: News Busters


She may be thinking god is speaking to her through Gayle King! CBS Urges Oprah to Run Against Trump: You 'Heal and Connect All People'

In this first video clip where she appeared on CBS Good Morning America, they discussed her role in the movie "A Wrinkle in Time". It is "based on the best-selling 1962 novel of the same name. The story follows a teenager named Meg who travels through time to rescue her missing father. Along the way, she is helped by three supernatural beings. Oprah Winfrey portrays Mrs. Which, the wisest of the three."

Mrs. Which is a play on words meaning Witch, but aptly describes this Jezebel! Oprah, like her pal Hillary Clinton, is a real Practicing Witch! Jezebel Women of a Demonic feather flock together!
Note that on the "Official" CBS Good Morning America YouTube channel, the title of this video is " Oprah Winfrey on who she channeled for her "A Wrinkle in Time" character"

Channeling is a New Age Witchcraft term: The practice of channeling — a person's body being taken over by a spirit for the purpose of communication — has been around for millennia. … Channelers, also sometimes known as psychic mediums, often use what are called "spirit guides," friendly spirits who give them knowledge and help them on their spiritual journeys. NO, they are NOT "friendly spirits" They are DEMONS! There is also NO "spiritual journey" that can get you to heaven.You are either saved by accepting Jesus Christ as Lord and Savior, or you are condemned to Hell for rejecting Him!
Also known as Necromency: "A supposed practice of magic involving communication with the deceased – either by summoning their spirit as an apparition or raising them bodily – for the purpose of divination, imparting the means to foretell future events or discover hidden knowledge, to bring someone back from the dead, or to use the deceased as a weapon, as the term may sometimes be used in a more general sense to refer to black magic or witchcraft." Source. See more about this in Hillary Clinton's Witchcraft part 1

Who did the Witch Channel?
According to her own words, in the video below, "[…]A combination of Glenda the good Witch in the Wizard of Oz which is my favorite movie of all times and actually one of my favorite "Spiritual Enlightenment Teachings", when Glenda says "you always had it, you always had the power" […]
What? She relies on the fictional movie the Wizard of Oz as "Spiritual Enlightenment Teachings"? Not really a surprise because she says almost the same about Harry Potter in part 2!
[…]"I could hear Maya in my head the whole time"[…]

She is referring to poet Maya Angelou. Her Wikipedia info says she was a member of the ALL BLACK Mount Zion Baptist Church in Winston Salem, North Carolina for 30 yrs. However, she was an adherent to the Unity Church and philosophy. When she was in her 20s, Dr. Maya Angelou discovered the Unity Church. Founded in 1889, Unity is a Christian movement that emphasizes affirmative prayer and education as a path to spirituality. Source: Oprah.Com

"The Unity movement was founded by Charles and Myrtle Fillmore in 1889 as a healing ministry based on the power of prayer and the power of our thoughts to create our own reality. The Fillmores regarded Jesus as the great example rather than the great exception; interpreted the Bible metaphysically; and taught that God is present within all of us." Source: Got Questions
"A time will come when instead of shepherds feeding the sheep, the church will have clowns entertaining the goats."– C.H. Spurgeon

The Unity church is NOT Christian and neither is that all Black Racist Mount Zion Baptist Church! "If you do not get Jesus right, it does not matter what else you do get right!" – Mike Muzzerall.
Some other interesting things to note about "A Wrinkle in Time"

Disney's 'A Wrinkle in Time' Erases Book's Bible Quotes, Cuts Jesus, Christian Figures From History
PJ Media – As Disney adapted the beloved children's book "A Wrinkle in Time" (1962) into a major motion picture — with no less than Oprah Winfrey on the star-studded cast list — the studio cut out a great deal along the way. Bible quotes, a reference to Jesus, and even Christian historical figures all got the boot. Could the excising of God help explain why the movie is projected to struggle at the box office?

In the transition from book to movie, many aspects get left on the cutting-room floor. Even so, these omissions proved particularly egregious, partially because they involved rewriting history.

The battle between good and evil (light and darkness) forms a central theme in "A Wrinkle in Time," and both book and film mention many historical figures who fought the darkness on behalf of the light. Disney seemed zealous to excise any hint of Christianity from the film, going so far as to cut even historic artists mentioned by Madeleine L'Engle, the book's author. Read more at PJ Media
Oprah is NOT a Christian as she claims. We can clearly see that in the videos that follow!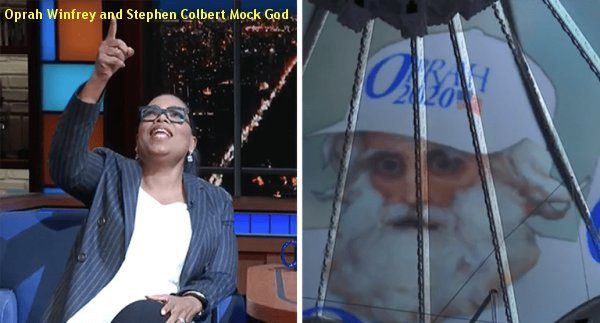 New Age Oprah Mocks God and Jesus on the Late Show with Stephen Colbert

Oprah Winfrey is double-minded. Says she will not run, but then considers. Gives speech that indicates she will, says no again. Then her friend Gayle King says no she is not, but has been poking and prodding her all the while!
James 1:5 "If any of you lack wisdom, let him ask of God, that giveth to all men liberally, and upbraideth not; and it shall be given him. 6 But let him ask in faith, nothing wavering. For he that wavereth is like a wave of the sea driven with the wind and tossed. 7 For let not that man think that he shall receive any thing of the Lord. 8 A double minded (wo) man is unstable in all his (her) ways."
Why Oprah is worse than Obama: Jesse Lee Peterson reveals reasons God won't call TV host to run for White House
Jesse is correct that the True God of the Bible and Heaven will NOT tell her to run! However, as shown above, she does NOT hear from God. She takes marching orders from the many gods in her false religions! I think she WILL try and run!
Satan's Spokesperson Oprah Winfrey
Oprah rejects the Lord Jesus Christ!
And finally, Oprah is a RACIST!
Continued in Part 2: When Oprah calls on God, who is she invoking? What God does she worship?
---
If you go to the store to buy Meat, don't run to the Milk section or the Junk Food aisle looking for it!!
The Meat Section is the
True Gospel of Jesus Christ
.
The Milk Section is likened to those who will not preach on sin and
Hell
, just a feel good message, the Social gospel.
The Junk Food Isle is the outright false doctrine AKA the prosperity gospel, name it and claim it, the Hebraic Roots movement and other false teachings!!
Feasting on just Milk and Junk will eventually cause you great harm, you can count on it!!
---
If you appreciate what this Ministry is doing to Expose the Fake Christians, Satanists, Witches, Communist/Socialist Democrats, R.I.N.O Republicans and the assault on our Conservative, True Christian values,
please consider a small donation
to help us continue and expand. This Ministry is not only under attack by the Enemy, we are now under attack from supposed Christians also. It is what
Tom Horn calls 'Blood on the Altar"
!