Mark my words, a new Scouting experience will rise. It won't be long until they merge the Boy Scouts and  Girl Scouts, RENAMING them the TRANS_SCOUTS?
That is sad because I love those Girl Scout thin mints! They will find a way to meld all those cookie into something else and screw them up too!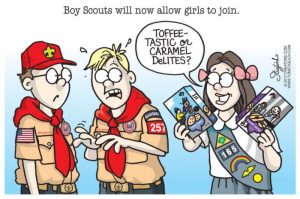 As Spock would say, "Logic dictates" that since you can't mention and touch the protected class and new gods of Social Media, the LGBTQPXYZ crowd, they will infest and mutate every thing they can.
The objective is to root out thing that is Good and wholesome and replace it with Evil and perversion. It is Isaiah 5:20 taking place before your very eyes! "Woe unto them that call evil good, and good evil; that put darkness for light, and light for darkness; that put bitter for sweet, and sweet for bitter! 21 Woe unto them that are wise in their own eyes, and prudent in their own sight!"
The financial bankruptcy is a result of the MORAL bankruptcy that has crept in several years ago!
Case and point: San Francisco Creates World's First Ever Transgender Cultural District! So it stands to reason they will mutate the Boy and Girl Scouts into a nasty and perverted hell hole!
Isaiah 1:4-6 "Ah sinful nation, a people laden with iniquity, a seed of evildoers, children that are corrupters: they have forsaken the LORD, they have provoked the Holy One of Israel unto anger, they are gone away backward. 5 Why should ye be stricken any more? ye will revolt more and more: the whole head is sick, and the whole heart faint. 6 From the sole of the foot even unto the head there is no soundness in it; but wounds, and bruises, and putrifying sores: they have not been closed, neither bound up, neither mollified with ointment. 7 Your country is desolate, your cities are burned with fire: your land, strangers devour it in your presence, and it is desolate, as overthrown by strangers."
The Daily Caller reports:
The Boy Scouts of America is considering declaring bankruptcy, according to a Wall Street Journal report.

The Wednesday report comes in the wake of sinking membership and multiple controversies surrounding the 108-year-old organization, including sex abuse allegations and its controversial decision to change its program name from Boy Scouts to Scouts BSA and allow girls into that program.

Chicago law firm Sidley Austin has reportedly been hired to assist in what would be a Chapter 11 bankruptcy filing.

As the organization has made decisions deemed to be more inclusive, such as allowing openly gay scouts in 2013 and scoutmasters in 2015 as well as the 2018 decision to allow girls, membership has continued to decline sharply, from over 4 million members at its peak to a claimed 2.3 million members at present.

Those numbers will likely continue to decline. Earlier this year, the Mormon church announced the end of a long-standing partnership with the Boy Scouts and the formation of its own program for boys beginning in 2020, a move that could cost the organization almost a third of its members. The church was reportedly "deeply troubled" by the group's decision to allow openly gay leaders.

Additionally, the Boy Scouts have come under criticism of late for keeping records of sex abuse perpetrated by scoutmasters — called the "perversion files" — under wraps for decades instead of revealing them to the public.

Mike Roe wrote in May of the "death of the Boy Scouts of America."

In my opinion, this kind of attrition can only explained by an increasing lack of relevance, or, the perception of irrelevance. Right now, there's a perception that The Boy Scouts have gone soft. That's the real tragedy, Sharon, because I can't think of anything more needed in our country today, than a youth organization that offers kids the same experience I underwent in the basement of Kenwood Church. Why? Because our country's current obsession with 'safe spaces' is destroying character faster than the Boy Scouts of today can build it.
---
If you go to the store to buy Meat, don't run to the Milk section or the Junk Food aisle looking for it!!
The Meat Section is the
True Gospel of Jesus Christ
.
The Milk Section is likened to those who will not preach on sin and
Hell
, just a feel good message, the Social gospel.
The Junk Food Isle is the outright false doctrine AKA the prosperity gospel, name it and claim it, the Hebraic Roots movement and other false teachings!!
Feasting on just Milk and Junk will eventually cause you great harm, you can count on it!!
---
If you appreciate what this Ministry is doing to Expose the Fake Christians, Satanists, Witches, Communist/Socialist Democrats, R.I.N.O Republicans and the assault on our Conservative, True Christian values,
please consider a small donation
to help us continue and expand. This Ministry is not only under attack by the Enemy, we are now under attack from supposed Christians also. It is what
Tom Horn calls 'Blood on the Altar"
!