2nd Corinthians 11:13-15 "For such are false apostles, deceitful workers, transforming themselves into the apostles of Christ. 14 And no marvel; for Satan himself is transformed into an angel of light. 15 Therefore it is no great thing if his ministers also be transformed as the ministers of righteousness; whose end shall be according to their works."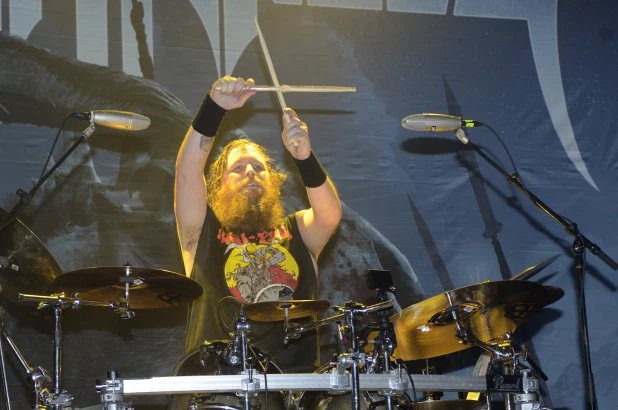 Death Angel drummer says he met Satan during near-death coronavirus coma
New York Post – A thrash metal drummer says he visited hell during a coronavirus-induced coma — and Satan wasn't as cool as he thought.

Will Carroll, of the band Death Angel, was comatose at the California Pacific Medical Center for two weeks in March after catching the virus on a European tour earlier that month, according to the San Francisco Chronicle's Datebook.

During that time, Carroll, 47, said he had disturbing dreams of visiting the afterlife.

There, the devil — a woman in this case — punished him for the deadly sin of sloth and turned him into a "Jabba the Hutt-like-monster" who vomited blood until he had a heart attack, the outlet reported last week.
No, Satan is not a woman. ALL angels, in this case a fallen angel, are male!  See Fallen Angels are the Principalities, Powers and Spirit Wickedness in high places!
When he opened his eyes on March 30, there were "tubes coming in and out of me, and there was a nurse right there," Carroll recalled.

"My first words were, 'Am I still in hell?'"

"She ignored me."
He did NOT experience anything close to Hell. Hell is a place of torment.  What will Hell be like? Those who have been there and only by the Grace and Mercy of God been sent back, have a similar account! 
For most of his time under and on a ventilator, Carroll was in critical condition and came close to dying, doctors told the outlet.

"He still was near the limits of what we could do with our supportive care, and we were very worried about him," said Dr. George Horng, a pulmonologist.

"He wasn't getting worse, but if he were to get worse, there wasn't much more that we could have done."

The Bay Area rocker's near death-experience prompted him to make some big life changes.

In an effort to be healthier, he said he's quitting hard alcohol and bong rips, narrowing his substance use to the occasional hard cider and marijuana edible.

As for his faith, Carroll said he now believes in a higher power — and feels prayers from his family and friends helped him pull through.

"I'm still going to listen to satanic metal, and I still love Deicide and bands like that," Carroll told the Chronicle.

"As far as for my personal life and my experience of what I went through, I don't think Satan's quite as cool as I used to." 

Source: New York Post
If he had really been to Hell and met the Devil, then he would NOT want to be "narrowing his substance use to the occasional hard cider and marijuana edible" nor would he  "listen to satanic metal, and I still love Deicide and bands like that"!!!
Are angels male or female?
There is no doubt that every reference to angels in Scripture is in the masculine gender. The Greek word for "angel" in the New Testament, angelos, is in the masculine form. In fact, a feminine form of angelos does not exist. There are three genders in grammar—masculine (he, him, his), feminine (she, her, hers), and neuter (it, its). Angels are never referred to in any gender other than masculine. In the many appearances of angels in the Bible, never is an angel referred to as "she" or "it." Furthermore, when angels appeared, they were always dressed as human males (Genesis 18:2, 16; Ezekiel 9:2). No angel ever appears in Scripture dressed as a female.

The only named angels in the Bible—Michael and Gabriel—are referred to in the masculine. "Michael and his angels" (Revelation 12:7); "Mary was greatly troubled at his [Gabriel's] words" (Luke 1:29). Other references to angels are always in the masculine gender. In Judges 6:21, the angel holds a staff in "his" hand. Zechariah asks an angel a question and reports that "he" answered (Zechariah 1:19). The angels in Revelation are all spoken of as "he" and their possessions as "his" (Revelation 10:1, 5; 14:19; 16:2, 4, 17; 19:17; 20:1). The devil, whom we assume is a fallen angel, is also referred to in masculine terms: he is a "father" in John 8:44.

Some people point to Zechariah 5:9 as an example of female angels. That verse says, "Then I looked up—and there before me were two women, with the wind in their wings! They had wings like those of a stork, and they lifted up the basket between heaven and earth." The problem is that the "women" in this prophetic vision are not called angels. They are called nashiym ("women"), as is the woman in the basket representing wickedness in verses 7 and 8. By contrast, the angel that Zechariah was speaking to is called a malak, a completely different word meaning "angel" or "messenger." The fact that the women have wings in Zechariah's vision might suggest angels to our minds, but we must be careful about going beyond what the text actually says. A vision does not necessarily depict actual beings or objects—consider the huge flying scroll Zechariah sees earlier in the same chapter (Zechariah 5:1–2).

The confusion about genderless angels comes from a misreading of Matthew 22:30, which states that there will be no marriage in heaven because we "will be like the angels in heaven." The fact that there will be no marriage has led some to believe that angels are "sexless" or genderless because (the thinking goes) the purpose of gender is procreation and, if there is to be no marriage and no procreation, there is no need for gender. But this is a leap that cannot be proven from the text. The fact that there is no marriage does not necessarily mean there is no gender. The many references to angels as males contradict the idea of genderless angels. Angels do not marry, but we can't make the leap from "no marriage" to "no gender."

Gender in language, then, is not to be understood strictly in terms of sexuality. Rather, the masculine gender pronouns applied to spirit beings throughout Scripture are more a reference to authority than to sex. God always refers to Himself in the masculine. The Holy Spirit is never described as an "it." God is personal and authoritative—thus, the personal pronouns in the masculine gender. It would simply be inappropriate to refer to heavenly beings as anything other than masculine because of the authority God has granted to them to wield His power (2 Kings 19:35), carry His messages (Luke 2:10), and represent Him on earth. Source: Got Questions
---
If you go to the store to buy Meat, don't run to the Milk section or the Junk Food aisle looking for it!!
The Meat Section is the
True Gospel of Jesus Christ
.
The Milk Section is likened to those who will not preach on sin and
Hell
, just a feel good message, the Social gospel.
The Junk Food Isle is the outright false doctrine AKA the prosperity gospel, name it and claim it, the Hebraic Roots movement and other false teachings!!
Feasting on just Milk and Junk will eventually cause you great harm, you can count on it!!
---
If you appreciate what this Ministry is doing to Expose the Fake Christians, Satanists, Witches, Communist/Socialist Democrats, R.I.N.O Republicans and the assault on our Conservative, True Christian values,
please consider a small donation
to help us continue and expand. This Ministry is not only under attack by the Enemy, we are now under attack from supposed Christians also. It is what
Tom Horn calls 'Blood on the Altar"
!