What we present here can't be proven 100%, because it seems the Powers that be have scrubbed any information about Jan Psaki's personal life, and her religious beliefs from the internet.

There are two other high profile Jezebel's who ARE witches and I prove it! Crooked Hillary Clinton, and Nasty Nancy Pelosi!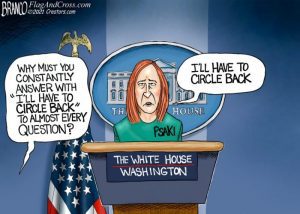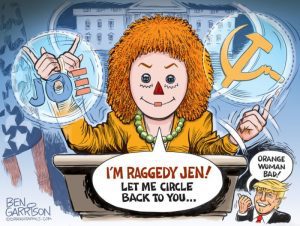 Psaki is a talking doll. Others pull her string and she then babbles proscribed and scripted lies. Jen makes a good face for the leftist media. She's a socialist sycophant relaying talking points to other socialist sycophants. There is no journalism involved. It's just one big circle jerk. – Ben Garrison

We can however Speculate, Glean and even judge a person by their fruits! Matthew 7:15-20
By knowing the Fruits, and by the leading of the Holy Spirit, a True Child of God can discern things that are hidden. For instance, I can spot a Homosexual or Lesbian a mile away, as well as Witches!

1st Corinthians 2:14-16 "But the natural man receiveth not the things of the Spirit of God: for they are foolishness unto him: neither can he know them, because they are spiritually discerned.15 But he that is spiritual judgeth all things, yet he himself is judged of no man.16 For who hath known the mind of the Lord, that he may instruct him? But we have the mind of Christ."
So with that out of the way, let's take a look at Jezebel Jan Psaki.
Communist White House Press Secretary Jen Psaki just may be a practicing Witch. She seems to love those Circles! She is known as the "Circle Back Lady"
Galatians 5:15  "But if ye bite and devour one another, take heed that ye be not consumed one of another."
The Circle Woman: Report Shows Biden Staff Pre-screening Psaki Press Briefing Questions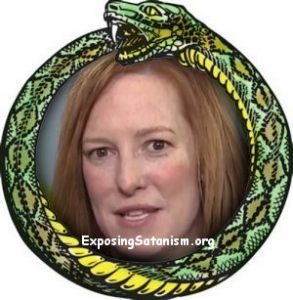 Biden staffers have prescreened reporters ahead of Jen Psaki's briefings to see what they plan to ask the White House press secretary, according to a report from the left-wing Daily Beast.
The outlet cited "three sources with knowledge of the matter" and "written communications" that revealed that the Biden administration has "already on occasion probed reporters to see what questions they plan on asking new White House Press Secretary Jen Psaki when called upon during briefings" less than two weeks into the new administration.
The report suggests that Psaki would have some idea of what reporters plan to ask prior to formally presenting their questions. Despite that, her "circle back" answers on tough questions have become a staple of her press briefings.
It remains unclear which, if any, reporters cooperated with the administration's inquiries. Leaders of the White House Correspondents Association (WHCA) have reportedly urged reporters not to accommodate the administration in that capacity: Read more
I put together a short video expanding on one where I saw the above post. It is Mocking the Witch!
From what little we can glean, she and her husband seem to be Catholics. That raises Red Flags right there!
She attended the Elite Only, Catholic Collage William and Mary. Source
Her husband Gregory Metcher was born in 1976 in southern Ohio. He attended Elder High School growing up, an all-boys Catholic prep school in Cincinnati. Source
She is a Member of a Racist Sorority, Chi Omega
Talk about White Privilege!

In 1971, the Delta Nu chapter at Dickinson College attempted to recruit an African-American woman as a member, and the national organization refused permission. Delta Nu separated from the national organization over this issue and became an independent sorority.

In 2013, the chapter at Pennsylvania State University was shut down after the sorority threw an offensive party insulting Mexican-American culture. National leadership of the sorority released a statement saying the party was not congruent with Chi Omega's values and purpose.

In 2013 and 2014, sorority women from multiple chapters at the University of Alabama – including Chi Omega, Delta Delta Delta, Pi Beta Phi, Kappa Delta, Alpha Gamma Delta, Alpha Omicron Pi, and Phi Mu – alleged that either active members or some of their alumnae had prevented them from offering membership to black candidates because of their race. An anonymous Chi Omega member told the school newspaper, The Crimson White, that their university-employed rush adviser dropped a black girl who received perfect scores after the first round of recruitment. Afterwards, chapter members requested that the Chi Omega national headquarters investigate the incident for racial discrimination, and one member of the chapter's executive board moved out of the chapter house and resigned her membership. Students held a campus march to integrate Greek life on campus, and following media and national outcry, the university held a second round of recruitment in hopes of offering membership to more women, including black women.

In 2014, the chapter at the University of Central Florida was suspended after allegations surfaced of sorority members blindfolding two pledges under the legal drinking age and taking them to the woods to drink an entire bottle of rum. According to the police report, one pledge ended up so intoxicated that she injured herself in a fall. Members of the sorority directly involved with the hazing incident later resigned from the sorority.

In 2014, a member at the University of Alabama was kicked out of the sorority after releasing a racially offensive picture that included a racial slur on social media, celebrating that the chapter had not offered membership to any black women that year. The university's president and sorority's leadership both released statements condemning the photo and acknowledging the importance of embracing diversity. Source

Circles are the most important thing in Witchcraft!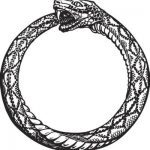 Ouroboros Snake – Serpent consuming itself – Pagan/Egyptian cultures worshipped the serpent. It represents rebirth because of its molting, protection against evil, either male of female sexuality, rain and fertility, a mediator between the physical and spiritual world…. It also represents female energy or lifeforce in goddess worship, sometimes linked to the eastern Kundalini force or a supposed "goddess within." The list of meanings is endless, but in the Bible it usually represents sin, temptation, destruction, and Satan. From Crossroads.to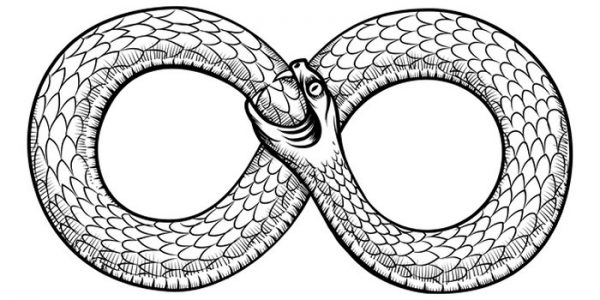 See more Snake Symbols here
Witches Cast a Circle when they are casting Spells and Rituals.
I do not recommend you do this or dabble in any form of Witchcraft. You will become demon possessed just like they are. I only offer this here to illustrate this circle crap coming out of Jen Psaki's mouth all the time! 
How To Cast A Circle

Casting a circle is one of the basic skills that every witch has to learn, whether consciously or unconsciously. Although the practice of casting is merely an option rather than a die-hard rule, it is often used to protect from external influences during meditation, divination, spellwork, and other rituals. Because casting is a witch's choice, the experience usually varies per person. Some like to cast a circle with candles, while others simply prefer to visualize it.

Your Safe Space

A circle is often described as a safe space because of its ability to protect from external influences and unwanted energies. It is a space where you can drop your ego, worries and doubts – a space where you can simply be.

It can also be illustrated as a lid on top of a peanut butter jar, protecting insects, ants and air to deteriorate the quality of the content. It is your circle of protection from pest-like energies during meditation or divination. Source
Now where have we heard the term "Safe Space"?  Why from the Communist Snowflake Witches on the Left, the Democrats of course!
The term safe space refers to places created for individuals who feel marginalized to come together to communicate regarding their experiences with marginalization, most commonly located on university campuses in the western world, but also at workplaces, as in the case of Nokia.

The terms safe space (or safe-space), safer space, and positive space may also indicate that a teacher, educational institution or student body does not tolerate violence, harassment, or hate speech, thereby creating a safe place for marginalized people. Source: Wikipedia
The Democrat Party is filled to the brim with Witches! That includes the Feminists, Lesbians, and Girly Men…, the Tranny's!
So, is Jen Psaki casting a circle around herself creating her 'safe space', or is she casting the circles and performing a ritual, casting a spell on the Fake News Fools?

You Can Now EAT Yourself: Scientists Create a Grow Your OWN Steak Kit!
A Part 2 to come as more info can be found about this Jezebel!
---
If you go to the store to buy Meat, don't run to the Milk section or the Junk Food aisle looking for it!!
The Meat Section is the
True Gospel of Jesus Christ
.
The Milk Section is likened to those who will not preach on sin and
Hell
, just a feel good message, the Social gospel.
The Junk Food Isle is the outright false doctrine AKA the prosperity gospel, name it and claim it, the Hebraic Roots movement and other false teachings!!
Feasting on just Milk and Junk will eventually cause you great harm, you can count on it!!
---
If you appreciate what this Ministry is doing to Expose the Fake Christians, Satanists, Witches, Communist/Socialist Democrats, R.I.N.O Republicans and the assault on our Conservative, True Christian values,
please consider a small donation
to help us continue and expand. This Ministry is not only under attack by the Enemy, we are now under attack from supposed Christians also. It is what
Tom Horn calls 'Blood on the Altar"
!