Edited Excerpts from the Sun – Local "spiritual healers" (Witch Doctors) were called in when a mother-of-two started acting bizarrely when she moved into a one-story house in Phetchaburi, Thailand.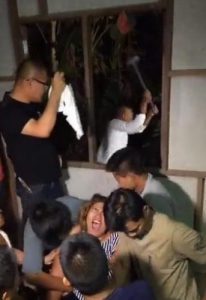 Footage shows several men pinning her down while one of them uses a sledge hammer to smash a ''spirit house'' – small structures kept in every Thai's front yard for the ghosts of previous residents to live in.
As the men hold her down, the woman screams: "What did I do wrong to you? Why did you have to do this to me?
"I have lived here for a long time. Why did you come like this to me? Where else can I live? Where?'"
There are NO such things as spirits of the dead, or ghosts lurking here on earth.
2nd Corinthians 5:8 "We are confident, I say, and willing rather to be absent from the body, and to be present with the Lord." When you die your soul and spirit go one of two places, Heaven or Hell. That is totally dependent on what you believe and have your placed your Faith in! The CHOICE is yours and yours alone! Continue reading "Thailand Woman became Possessed due to Hindu Superstition of inviting Demons into Spirit Houses"