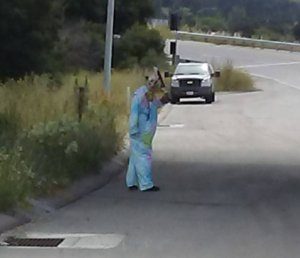 KTLA 5 – A 61-year-old man was holding out his thumb as if he was trying to hitch a ride while holding the machete coated in fake blood in his other hand, Monterey-area television station KSBW reported.
"Two deputies contacted Larry, with their guns drawn, and eventually figured out what he was up to," the post said.
The man was arrested, questioned and eventually released without being charged, the Sheriff's Office said.
"He didn't actually threaten anybody. He just had a sick sense of humor," said Monterey County Sheriff's Cmdr. John Thornburg.
See all about the Clown Perversion here.